Matana Roberts
Assistant Professor, Department of Music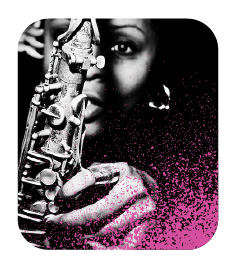 Biography

Matana Roberts (they/them) is an internationally recognized saxophonist, composer, sound experimentalist and mixed-media practitioner. Professor Roberts works in many contexts and mediums, including improvisation, dance, poetry and theater. They expose the intuitive spirit-raising traditions of American creative expression while maintaining a deep and substantive engagement with narrativity, history, community and political expression within improvisatory sonic and visual structures.

They have received numerous awards and international recognition of their work. They have been invited to teach, lecture, run workshops and/or take up artistic residencies in countless places around the world under different conditions and with diverse communities over the past two decades. They have released a series of recorded work to high acclaim and regularly exhibit their visual work in international group and solo exhibitions.

Of their work, Professor Matana says the following: "At my artistic core, I am firmly dedicated to creating a unique and very personal body of work that speaks to, and reminds people of all walks of life to reach, stand up, give voice, regardless of difference, created from mere labels of intellectual classification. In my ideal world the idea of 'difference' is an illusion designed only for modern economic division and elitist intellectual hierarchy. Through my life's work, I stand creatively in defiance."
Q&A

Q&A coming soon