Making sense of — and changing — the World
UC San Diego School of Arts and Humanities alumni constitute an enduring legacy throughout the region, state, nation and world.
Thousands of artists and scholars have transferred the foundational skills they acquired as division students to distinguished careers in the arts, the academic world, non-profit and non-governmental institutions, and the professions. Perhaps most importantly, they have pursued engaged, fulfilling and exciting lives. We celebrate their accomplishments and take pride in their success.
Alumni are among our greatest assets to promote the value of an arts and humanities education at UC San Diego. In an era when science and technology seem to be eclipsing the importance of traditional liberal arts education, our division shines through its former and current students.
We are eager to connect our alumni with current students, faculty and staff on campus, their alumni colleagues and with the wider community through activities and programs that stimulate interest, loyalty and support.
Our dean travels regularly to meet alumni across the nation, and we welcome your participation at one of these alumni events. We also invite you to share your insights to help us continually refine and improve our alumni outreach.
Please keep us informed about your current position, your interests and your future plans. We are happy to help you establish contact with other graduates, like-minded colleagues and well-remembered teachers and mentors.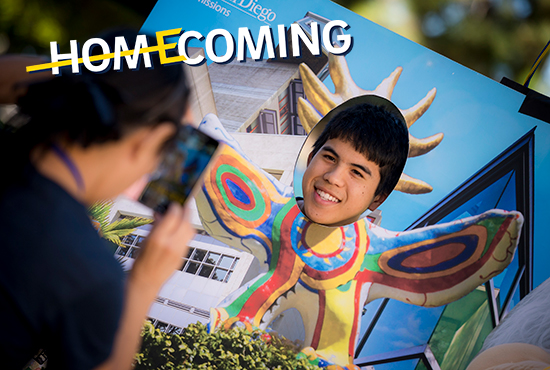 Get Your Spirit On
Join campus for its fifth annual all-campus Homecoming — a fun-filled week of old favorites and new
experiences sure to bring out your school spirit. Cheer your team. Unite with friends. Dance the
night away. Go Tritons!
Alumni Profiles
Arts and Humanities alumni come from the departments of History, Literature, Music, Philosophy, Theatre and Dance, and Visual Arts, and are vital to UC San Diego since its beginnings.
UC San Diego Alumni
Alumni are a part of a proud, loyal and grateful Triton Family that support professional success, deliver profound experiences, and build meaningful and lasting relationships among students, alumni and community partners at home and worldwide.