Silpa Mukherjee
Assistant Professor, Department of Literature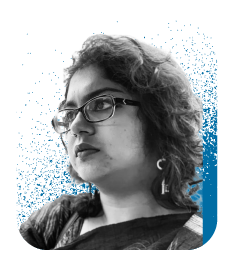 Q&A

What excites you most about coming to UC San Diego?

"I am excited to join the Department of Literature at UC San Diego. I appreciate the truly interdisciplinary nature of the department. It supports work that pushes the envelope of canonical western epistemologies. Outside the department I look forward to serving in a unionized public university."

Why did you choose your field of study?

"Until a few years ago, I used to jokingly respond to this question. What other field of study would have paid me a stipend and sponsored my international student visa to spend my time in the U.S. watching movies?

I have been a cinephile for as long as I can remember. Growing up in India where serious film studies departments are relatively new and still limited to graduate level, I chose the closest possible major in college, Literatures in English. Back then I treated film purely as a text. My alma mater Lady Shri Ram College for Women has a long history of feminist activism and dynamic approaches to curriculum. There I took up a formal Film Studies course and learned to appreciate the many lives of the filmic image — a living, throbbing technological entity that resides in overlapping contexts. I also learned about the unique M.A. program in Jawaharlal Nehru University's School of Arts and Aesthetics that combined courses in visual studies, performance studies and cinema studies. I couldn't help becoming a part of it, falling hopelessly in love with JNU, and staying on for an M.Phil. degree in Cinema Studies.

Since then, there has been no looking back. One thing led to another, and here I am now."

What advice do you have for students studying in the arts and humanities?

"Pursue it purely for the pleasure of it. Thoroughly immerse yourself. Your ability to think and communicate will serve you in more ways than you can possibly imagine. From a practical standpoint a humanities education will offer you strengths that will help your career. But more importantly, it will enable you to be a sentient and integral part of your community and beyond. I'm sure tomorrow you will grow as an inspiring individual who will make the world faced with constant crises a little more tolerable."

How do you view your role relative to the greater regional community?

"One of the things that excites me about my job is the proximity of San Diego to the U.S.-Mexico border in Tijuana. As someone who works on contraband, I'm fascinated by the possibility of learning from the people whose everyday lives are moderated by the border. I look forward to organizing events with amateur filmmakers from across the border."

What is something about yourself that is not typically included in your bio?

"I spend an incredible amount of time in the kitchen reconstructing flavors from my grandmother's kitchen or ones that draw my attention when I eat out. I started cooking only after I came to the U.S. in 2017. My grandmother passed away a decade before that, so I have never learned from her. A year ago, when I made my

bashonti polao

for my mother she remarked with poignance that my sense of precision with flavors resembles her grandmother's. Like her grandmother, I do not need to measure ingredients precisely or taste for doneness and texture. We feel food and judge by eye. My mother never learned to cook from her grandmother. She has no particular affinity to the kitchen. But somehow my cooking has entangled us all, four generations of women in company of each other through intangible histories."
Biography

Professor Silpa Mukherjee earned a Ph.D. in film and media studies from the University of Pittsburgh and an M.Phil. in cinema studies from Jawaharlal Nehru University. Her research and teaching interests include feminist historiography, informal media industries, media beyond legality, South Asian cinema, South Asian media culture in diaspora and South by South networks. She has also written on Bombay cinema's hypersexualized song-and-dance sequences, popularly known as "item numbers."

Professor Mukherjee's current book project theorizes cinema as contraband by mapping illicit transregional corridors between South Asia and the Middle East that entangled a local cinema in global capital, speculative finance and affective, legal and material border breakings. Professor Mukherjee's research has been supported by the Andrew W. Mellon Foundation and the American Council of Learned Societies.

Professor Mukherjee also served as the assistant editor of

JCMS: Journal of Cinema and Media Studies

from 2018 to 2022. As part of the editorial team, she received a Distinguished Service Award from the Society for Cinema and Media Studies in 2023.