Foundational. Transferable. Enduring.
We teach students to think critically, express creatively and communicate clearly — skills favored by employers.
We are listed among the top 23 in subject area rankings (U.S. News & World Report Global University Rankings).
We help students make sense of the world and imagine the future.
The Division At a Glance
1,540 undergraduates
435 Ph.D. and MFA graduate students
100 + undergraduate majors and graduate programs
373 academic, instructional and research faculty
23,000 alumni
A statement from Division of Arts and Humanities leadership
We will not stand by to watch acts of violence inflicted upon our Black colleagues, students, families and friends — or upon Black people anywhere. We vow to use the powerful tools of our disciplines in the Arts and the Humanities to interrogate the past, act upon the present and realize a more equitable future.
The Flip to Remote: Responding to COVID-19
Arts and Humanities Dean Cristina Della Coletta talks with faculty on the innovation, challenges and successes of moving to remote instruction during the global pandemic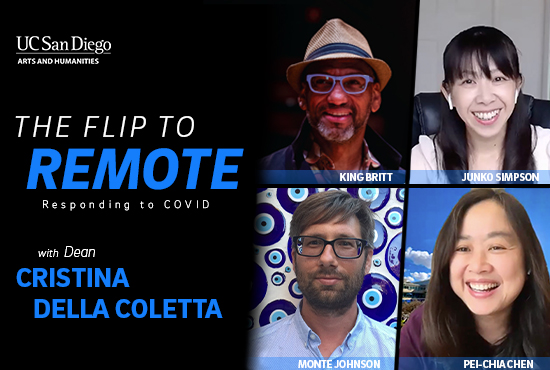 The Engine of Creative Innovation
Armed with foundational knowledge, transferable skills and enduring experience, Arts and Humanities graduates don't just impact the workforce — they leave a dent. With your philanthropic support of the division, we can make waves for the greater good.
The Campaign for UC San Diego
At the University of California San Diego, challenging convention is our most cherished tradition. The Campaign for UC San Diego is a $2 billion comprehensive fundraising effort to transform the student experience, our campus and ultimately the world. #GiveUCSD #ContinueTheNonTradition