Foundational. Transferable. Enduring.
We teach students to think critically, express creatively and communicate clearly — skills favored by employers.
We are listed among the top 23 in subject area rankings (U.S. News & World Report Global University Rankings).
We help students make sense of the world and imagine the future.
The Division At a Glance
1,540 undergraduates
435 Ph.D. and MFA graduate students
100 + undergraduate majors and graduate programs
373 academic, instructional and research faculty
23,000 alumni
Groundbreaking Institutes
The Institute of Arts and Humanities
Encompassing a broad range of methods, the institute generates and supports projects that help equip our community with the creativity, empathy and analysis for practicing a collaborative and more equitable human experience.
The Institute for Practical Ethics
As one of the signature initiatives of the division, the institute is formed as an interdisciplinary research unit within UC San Diego dedicated to the goal of creating socially responsible science and policy.
Envisioning the Future
Led by Arts and Community Engagement, a public discussion was held Nov. 14 inside the University Art Gallery, where five prominent gallery directors from top universities across the nation answered the question "Why is a university art gallery important?"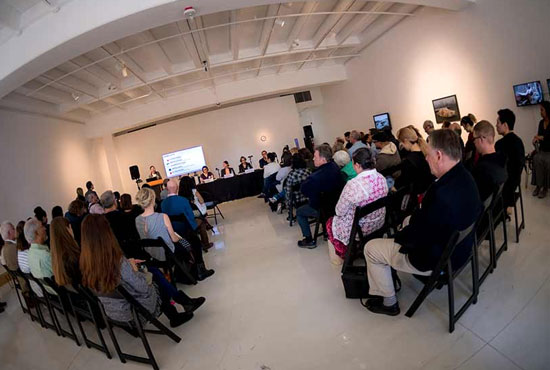 Arts and Humanities Moments
Stay up to date with the latest accomplishments, news and events from the Division of Arts and Humanities through our digital magazine.
Jan 18, 19
Martin Luther King, Jr. Day of Service and Parade
Jan 29
Conrad Prebys Presidential Chair Concert
The Engine of Creative Innovation
Armed with foundational knowledge, transferable skills and enduring experience, Arts and Humanities graduates don't just impact the workforce — they leave a dent. With your philanthropic support of the division, we can make waves for the greater good.
The Campaign for UC San Diego
At the University of California San Diego, challenging convention is our most cherished tradition. The Campaign for UC San Diego is a $2 billion comprehensive fundraising effort to transform the student experience, our campus and ultimately the world. #GiveUCSD #ContinueTheNonTradition