Events that Serve the Community
The UC San Diego Division of Arts and Humanities is committed to serving the campus community, as well as the greater San Diego community, with programs that push boundaries, challenge expectations, and drive innovation. Our programs help others understand the human condition and improve the common good by targeting excellence and articulating the distinctiveness of the arts and humanities at UC San Diego.
Oct. 10 | Innovator Series
Held at The Basement at 3 p.m., Visual Arts alum Scott Chacon '02 is co-founder of GitHub and the new app Chatterbug
Oct. 22 | Pecha Kucha
New MFA students in Visual Arts will present their work in the Pecha Kucha format: 20 images up for 20 seconds each
Oct. 24 | Film Screening
The Institute of Arts and Humanities will screen "Singing Our Way to Freedom," with a discussion to follow
Homecoming Weekend
Come back home to campus for the sweetest, most super-sized Homecoming UC San Diego has ever known! Take in a few athletic events, a tasty barbecue, a class reunion, an outdoor music festival or a performance at La Jolla Playhouse.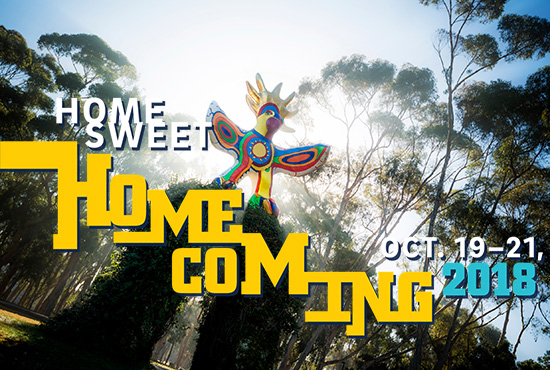 Oct. 1: From Japan to the U.S.: A Conversation with Padres Advisor and Major League Baseball All Star, Takashi Saito
Oct. 3: Ethical Boundaries of Research with Human Embryos
Oct. 5: Bodies, Books, Histories – Augustine of Hippo on the Extraordinary presented by the Center for Hellenic Studies
Oct. 5: Breaking Down Babel: Protest Songs from Moscow to Detroit presented by the Jewish Studies Program and the Russian, East European and Eurasian Studies Program
Oct. 8: Science Studies Colloquium Series featuring Shelley Streeby, Department of Literature
Oct. 9: Late Antiquity: 'Long and Broad' presented by the Center for Hellenic Studies
Oct. 10: Innovator Series with division alum Scott Chacon '02
Oct. 10: Past is Prologue: A Journey of Discovery presented by the UC San Diego Holocaust Living History Workshop
Oct. 10: Literature New Writing Series featuring Jackie Wang
Oct. 10: Music's WEDS@7 series featuring Tiger Trio
Oct. 11: Kafka's Last Trial: The Case of a Literary Legacy
Oct. 12: UC San Diego-Harvard Department of Music exchange
Oct. 12: Philosophy Colloquia Series: "What Breathes Fire into the Equations?
Oct. 15: Science Studies Colloquium Series featuring Kelly Gates
Oct. 17: Illness, Challenges to the Self, and the Power of Empathic Curiosity (Biomedical Ethics Series)
Oct. 18: Literature Alumni Lecture Series featuring guest Elisabeth Arnould-Bloomfield
Oct. 19: MINT exhibition featuring Visual Arts alum, faculty and students
Oct. 19 – 21: Homecoming Weekend
Oct. 22: Science Studies Colloquium Series featuring Jesse Goldstein
Oct. 22: 2018 Visual Arts Pecha Kucha
Oct. 24: "How Women's Experiences Come Alive in a New Digital Archive, New Interpretations of the American Past" with guests Kathryn Sklra and Thomas Dublin
Oct. 24: Film Screening & Discussion – "Singing Our Way to Freedom"
Oct. 24: Literature New Writing Series featuring Sesshu Foster
Oct. 24: Longenecker Artist in Residence: Anna Sew Hoy Guest Lecture
Oct. 24, 26, 27: "Inheritance: A Chamber Opera"
Oct. 29: Science Studies Colloquium Series featuring Saiba Varma
Oct. 29: Visual Arts Graduate Lecture Series featuring Adam Khalil
Links to Additional Event Calendars