The North Torrey Pines Living and Learning Neighborhood










A neighborhood like no other on campus.
The North Torrey Pines Living and Learning Neighborhood is an innovative, mixed-use community that will further connect students with each other, faculty and staff by incorporating residential, academic and administrative space.
To open during the 2020 - 2021 academic year, the living and learning neighborhood will become the home of the Division of Arts and Humanities, the Instititue of Arts and Humanities, the Analytical Writing Program and all three of our humanities departments: History, Literature and Philosophy.
Watch the Latest Video
Frequently Asked Questions
Added September 2020

"We were recently given a special tour of the new Arts and Humanities Building, giving access to each of the 10 floors. Construction continues, including A/V installation on each of the floors and landscaping has begun for the complex. Sixth College has nearly finished their move into the neighborhood, and students have begun to arrive in preparation for the start of Fall Quarter, at a reduced footprint. We anticipate receiving the keys to the building in December, and are currently completing a move-in schedule that will accommodate all our departments in a safe and efficient manner." – Tad Linfesty, Divisional Facilities Manager
Six exciting restaurants are coming to the new North Torrey Pines Living and Learning Neighborhood in 2021, bringing the best of the local restaurant scene to campus. Students shared in surveys that they are looking for food that represents the "San Diego experience" on campus.
Blue Bowl
Blue Bowl is the original create-your-own superfood bowl concept that serves a wide range of superfood bases and unlimited topping combinations for a flat bowl price. Blue Bowl began in farmers' markets and grew to have multiple locations in Los Angeles and Orange Counties. Two of the partners forged lifelong friendships as roommates while undergraduates at UC San Diego.
Copa Vida
Copa Vida Café is a Specialty Coffee, Tea and Food company that was born in Pasadena and grew in San Diego. With seven café locations and one roasting company that has been in operations for seven years, Copa Vida specializes in designing experiences for customers with a focus on creating community gathering places where the coffee, tea and food becomes a basis for dialogue, connections and great times.
Fan-Fan
Fan-Fan features delicious and healthy Chinese and Asian fusion food at reasonable prices. Fan-Fan and Taste of Hunan in Scripps Ranch are focused on flavors from Hunan, famous for aromatic and spicy flavor. Fan-Fan, led by a UC San Diego Rady School MBA alumn, opes to transform the culinary experience on campus by offering the best in Asian cuisine with a warm and friendly environment for anyone to call their home away from home.
Plant Power
Plant Power Fast Food specializes in 100% plant-based versions of all of the fast-food classics, such as hamburgers, fries and shakes served in compostable and biodegradable packaging. Their mission is to provide healthier, new choices that are better for the planet and our animal friends.
Shōwa Ramen
Shōwa Hospitality presents UC San Diego's new ramen spot, Shōwa Ramen, inspired by the retro era in Japan. The chef will create both Japanese style ramen such as tantan noodle and spicy miso as well as Chinese style ramen. For health enthusiasts, vegetable ramen and seasonal ramen will be offered.
Tahini
Tahini is the story of two best friends' quest to bring you the most authentic Middle Eastern street food. Tahini is operated by a group of immigrants and refugees, bakers and butchers, and students and artists, with different backgrounds and religions, who came together over a shared love of freshly prepared pita bread, house made falafel, shawarma and more.
UC San Diego has commenced with plans to welcome back students, faculty and staff to campus for the Fall Quarter through an incremental repopulation of campus, which started in August and increased in mid-September with undergraduate student move-in. Pictures here are from Sixth College move-in, into the North Torrey Pines Living and Learning Neighborhood.
Undergraduates will move in, in a reduced capacity, over a 10-day period at assigned days and times in order to allow for expedited testing and minimized contact with others. The university has comprehensive plans to reduce, mitigate and care for those impacted by COVID-19 and are able to take actions on campus that can make coming to work, living or taking classes here relatively safe, among all the activities campus community members might do in their daily life.
Learn more about the UC San Diego Return to Learn >>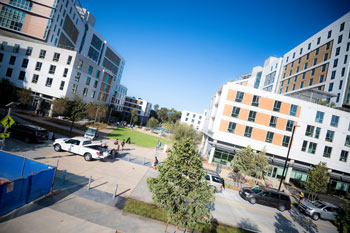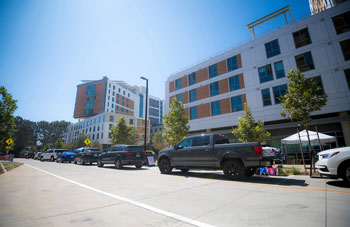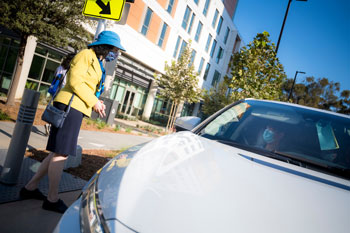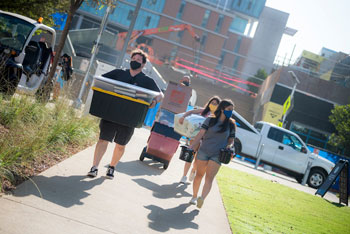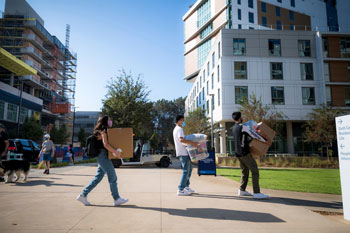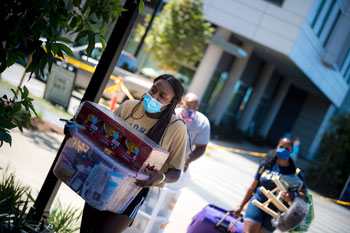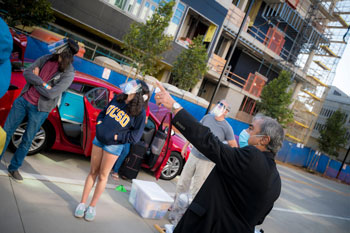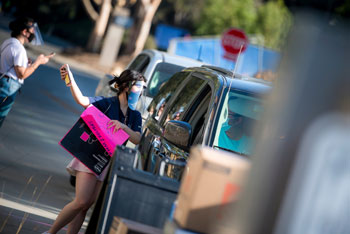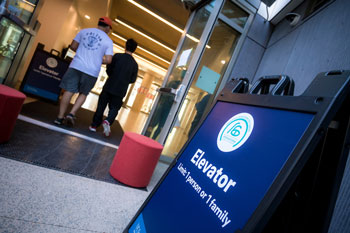 Additional FAQs
Check out the artist rendering (top) with this drone photo taken June 29, 2020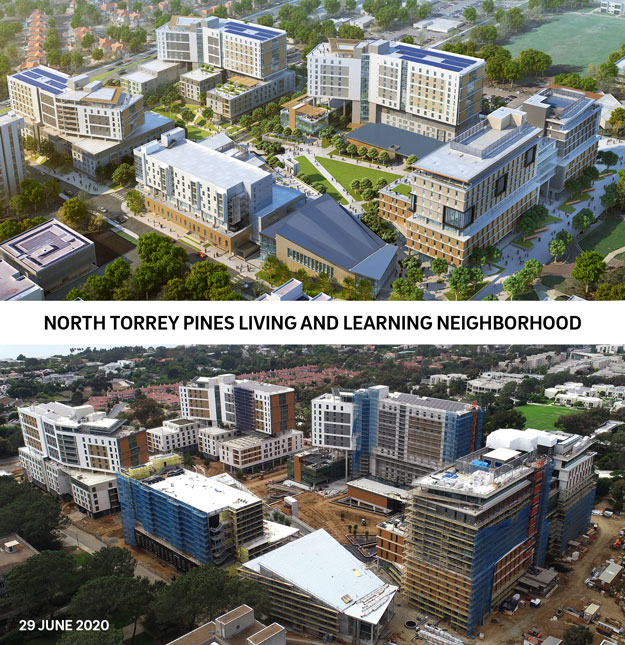 The move for the departments, institute, program and Dean's Office to be housed in the Arts and Humanities building will be a collaborative effort, coordinated with all tenants in the new neighborhood. The schedule continues to evolve, and tenants will be informed of a detailed timeline in order to prepare accordingly. For immediate questions, contact Tad Linfesty, Arts and Humanities facilities manager.
Visual artist and designer Annika Nelson has been chosen by Housing, Dining and Hospitality to lead the new 11,000-square-foot UC San Diego Craft Center, marking a key milestone in the long-awaited return of a beloved creative community hub.
The Craft Center will be an important part of the North Torrey Pines Living and Learning Neighborhood, which was designed to bring together academic, cultural, residential and retail spaces to inspire exploration, collaboration and connection. Similarly, the center will offer students, faculty, staff and the local community unique opportunities to connect and create.
"I believe in the power of art-making to break down barriers and provide opportunities for dialogue that do not happen in other spaces," said Nelson. "The Craft Center provides a unique opportunity for people from all corners of San Diego to meet."
Nelson's career has been dedicated to forging connection and inspiring creativity. She earned a bachelor's degree in studio art from UC Santa Cruz and went on to study printmaking at the University of Applied Arts in Vienna, Austria.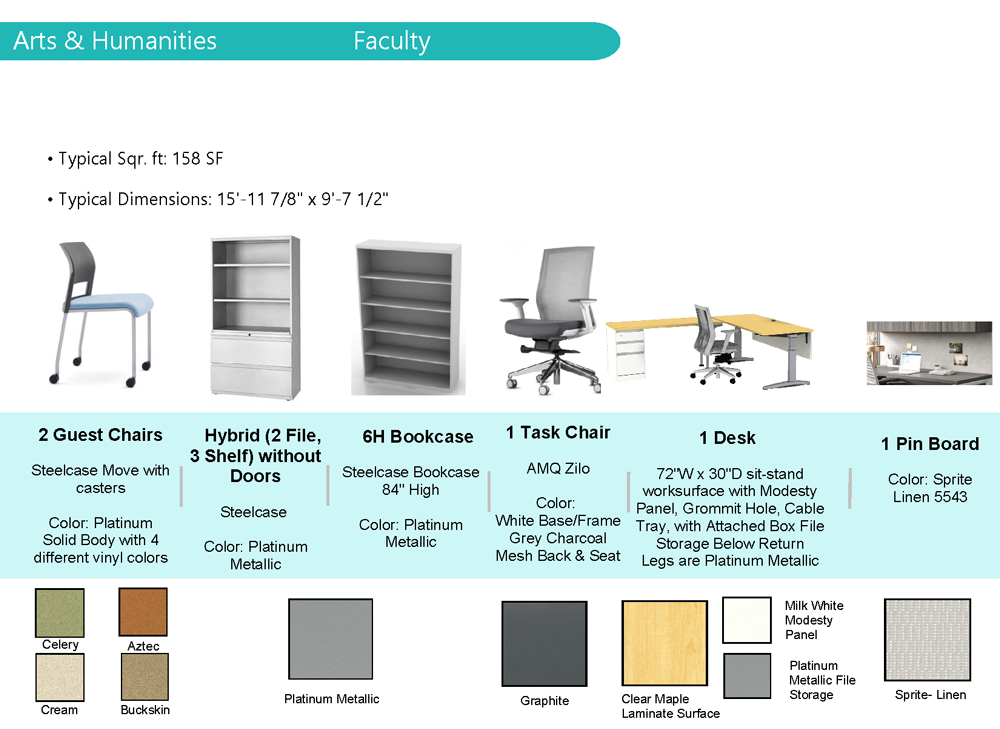 Note: images represent a general sample, and there will be slight differences based on specific department/area.
The response to the coronavirus pandemic will continue to have serious effects across the world, in the State of California and on campus. This includes a significant financial impact for University of California and UC San Diego for an unknown period of time.

One step the university will take to respond effectively to changes in the economic situation is to temporarily pause some planned campus transformation projects, including the Triton Pavilion and Hillcrest Outpatient Pavilion. The goal is to be able to quickly restart these projects when circumstances have improved and the campus is in a stronger position to move forward.

While some projects are on pause, many projects will proceed, largely because they are already under construction and funded, provide essential student housing and academic space or support health and safety on campus:
North Torrey Pines Living and Learning Neighborhood
Theatre District Living and Learning Neighborhood *renamed to this July 2020
Pepper Canyon West Undergraduate Housing
Design and Innovation Building
UC San Diego Downtown Center
Marine Conservation and Technology Facility
Franklin Antonio Hall
UC San Diego Blue Line Trolley extension
Read the full feature in ThisWeek @ UC San Diego.
In addition to one or more conference and instruction rooms on each floor that will come equipped with state-of-the-art TV monitors and projection equipment for departmental business and instructional purposes, an interactive digital map will be located in the lobby and digital signage announcing events will be located throughout the building.
Users will control the Atlona AV system using a touch panel display mounted on the wall or table, and connect their laptops to either of the HDMI or VGA connections that will seamlessly send their content to the projector and displays.
Some of rooms in the building will be outfitted with cameras and flush, ceiling-mounted microphones for networking with streaming and recording devices.
Security cameras will be located throughout the complex and inside each of the buildings located in the North Torrey Pines Living and Learning Neighborhood. To gain access beyond the public areas, the buildings will be equipped with ID card readers that are compatible with the new UC San Diego One Card.
The One Card project is a campus-wide initiative intended to enhance security, increase reader compatibility and improve operations across campus while eliminating the need to carry multiple ID cards.
All faculty and staff in the Division of Arts and Humanities who do not already have the new UC San Diego One Card are encouraged to upgrade their Legacy ID card before relocating to the new building, as a One Card will be required to gain access beyond the public areas of the Arts and Humanities building.
Learn about the eligibility requirements and instructions to upgrade to the UC San Diego One Card. Access the One Card request form (PDF).
Alert
To ensure the safety and security of our entire community regarding COVID-19 and following guidelines from the Center for Disease Control and Governor of California, do not come to campus until official instruction to do so from the university. Keep up to date on the
university's COVID-19 response
.
In recognition of Governor Gavin Newsom's Executive Order on March 19, construction projects at UC San Diego are proceeding. The university is working collaboratively with our contractors to assure that proper procedures are being implemented on all jobsites to comply with social distancing requirements and general safety recommendations from the CDC to slow the spread of COVID-19 throughout our community.
Development of the Living and Learning Neighborhood presents an opportunity to help meet our on-campus housing goals while providing much-needed academic and support space — including a building specifically for the Division of Arts and Humanities — that better connects departments and programs. Envisioned to be a vibrant and active hub, the neighborhood will also be a welcoming and comfortable place that promotes community.
The complete North Torrey Pines Living and Learning Neighborhood includes:
The Arts and Humanities Building (PDF) will be a physical hub where ideas and ideals will thrive — expanding, testing, and transforming the existing conventions of intellectual exchange among and across disciplines.
The Craft Center (PDF) classrooms, dedicated studios, and specialized facilities will provide ample opportunities to activate connections, conversations, and community.
The Social Sciences Public Engagement Building (PDF) will be a place for faculty, students, and the broader community to work together to generate ideas about quality of education and quality of life.
Sixth College's four residential buildings will house 2,000 students, creating shared experiences, encouraging personal connection, and inviting participation and discovery.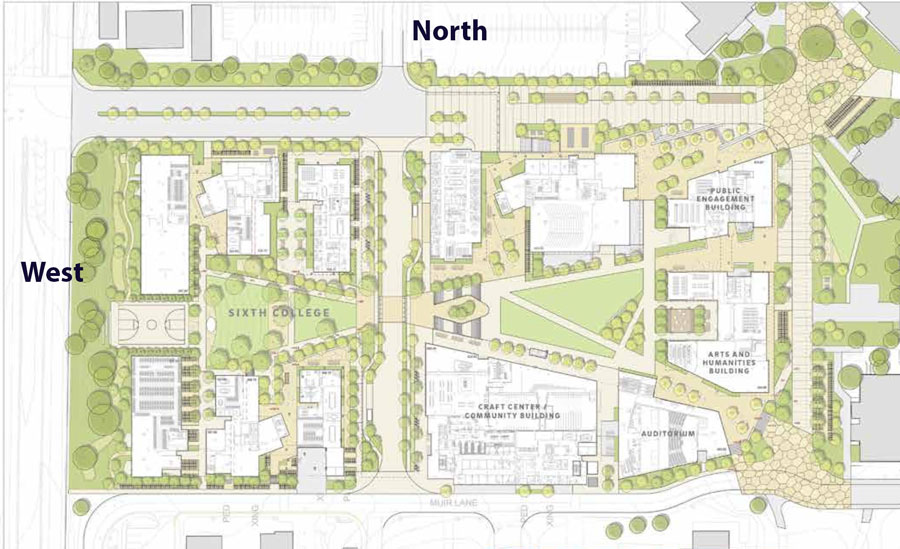 The Arts and Humanities building will include:
Division of Arts and Humanities Office of the Dean
Department of History
Institute of Arts and Humanities
Analytical Writing Program
Department of Philosophy
Department of Literature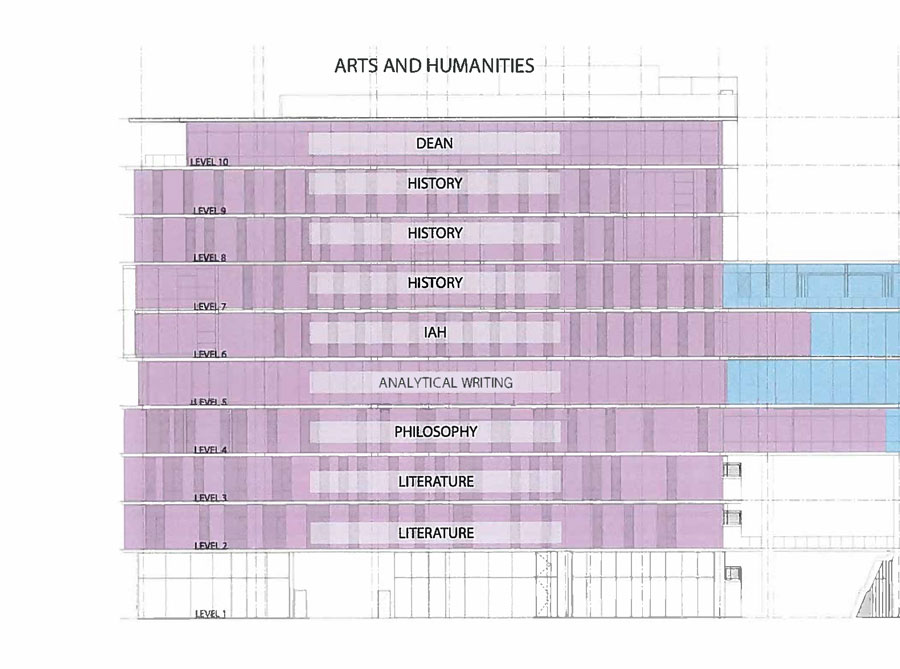 Construction is well underway with new student housing expected to be move-in ready by Fall 2020. Key dates include:
Building structures: June through December 2019
Building envelop and finishes: March through July 2020
Landscaping: July through August 2020
Normal construction hours are 7 a.m. to 7 p.m. weekdays.
Occupents of the Arts and Humanities Building will have access to begin the move starting late August 2020, with full occupency complete by the end of September. A detailed schedule for each department and unit will be developed.
Update: as of May 2020, tenants of the Arts and Humanities building will have access to begin moving in December 2020.
UC San Diego is committed to meeting UC system-wide goals of achieving Leadership in Energy and Environmental Design (LEED) Silver Certification for all new buildings with North Torrey Pines Living and Learning Neighborhood seeking to achieve a LEED Platinum rating. Innovative design elements, like an anaerobic digester, condensate capture systems and onsite photovoltaics, will help to achieve this goal. Learn more about UC San Diego's Green Building Program.
New Faculty 2020-2021
The 12 incoming faculty members in the Division of Arts and Humanities for the academic year 2020 - 2021 give advice to students to find success in their studies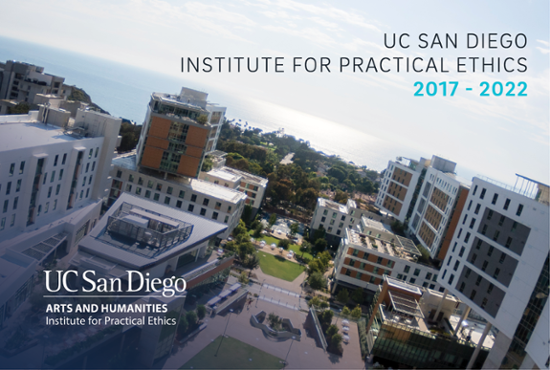 Learn more about the entire project at the North Torrey Pines Living and Learning website.
Page updated Oct. 21, 2020.