The North Torrey Pines Living and Learning Neighborhood










A neighborhood like no other on campus.
The North Torrey Pines Living and Learning Neighborhood is an innovative, mixed-use community that will further connect students with each other, faculty and staff by incorporating residential, academic and administrative space.
To open Fall Quarter 2020, the living and learning neighborhood will become the home of the Division of Arts and Humanities, the Instititue of Arts and Humanities, the Analytical Writing Program and all three of our humanities departments: History, Literature and Philosophy.
See the latest Video
Watch the five-minute, time-lapse video of the construction site taken mid December 2019.
Frequently Asked Questions
Development of the Living and Learning Neighborhood presents an opportunity to help meet our on-campus housing goals while providing much-needed academic and support space — including a building specifically for the Division of Arts and Humanities — that better connects departments and programs. Envisioned to be a vibrant and active hub, the neighborhood will also be a welcoming and comfortable place that promotes community.
The complete North Torrey Pines Living and Learning Neighborhood includes:
The Arts and Humanities Building (PDF) will be a physical hub where ideas and ideals will thrive — expanding, testing, and transforming the existing conventions of intellectual exchange among and across disciplines.
The Craft Center (PDF) classrooms, dedicated studios, and specialized facilities will provide ample opportunities to activate connections, conversations, and community.
The Social Sciences Public Engagement Building (PDF) will be a place for faculty, students, and the broader community to work together to generate ideas about quality of education and quality of life.
Sixth College's four residential buildings will house 2,000 students, creating shared experiences, encouraging personal connection, and inviting participation and discovery.
The Arts and Humanities building will include:
Division of Arts and Humanities Office of the Dean
Department of History
Institute of Arts and Humanities
Analytical Writing Program
Department of Philosophy
Department of Literature
Construction is well underway with new student housing expected to be move-in ready by Fall 2020. Key dates include:
Building structures: June through December 2019
Building envelop and finishes: March through July 2020
Landscaping: July through August 2020
Normal construction hours are 7 a.m. to 7 p.m. weekdays.
Occupents of the Arts and Humanities Building will have access to begin the move starting late August 2020, with full occupency complete by the end of September. A detailed schedule for each department and unit will be developed.
For reference, Fall Quarter 2020 begins Sept. 28, with first day of instruction Oct. 1.
UC San Diego is committed to meeting UC system-wide goals of achieving Leadership in Energy and Environmental Design (LEED) Silver Certification for all new buildings with North Torrey Pines Living and Learning Neighborhood seeking to achieve a LEED Platinum rating. Innovative design elements, like an anaerobic digester, condensate capture systems and onsite photovoltaics, will help to achieve this goal. Learn more about UC San Diego's Green Building Program.
Division Receives Humanities Infrastructure Award
The arts and humanities will have a stronger presence on campus, thanks to a $750,000 matching grant from the National Endowment for the Humanities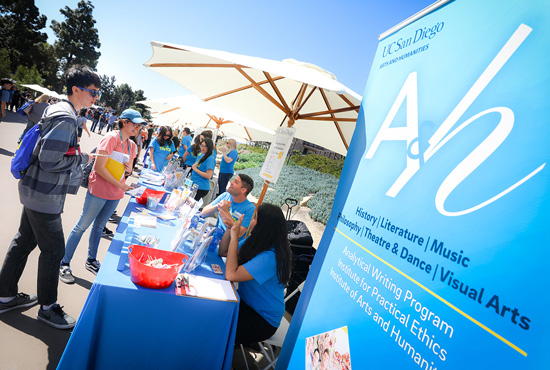 Learn more about the entire project at the North Torrey Pines Living and Learning website.
Page updated Jan. 14, 2020.