News & Events from the Division
---
Using Humanities and Science to Step Back in Time
Fieldwork in Italy leads to virtual-reality modeling on campus for a truly interactive experience
A collaborative group of researchers from the University of California San Diego traveled to Turin, Italy recently to digitally map an entire portion of the city—complete with historic architecture, expansive murals and stunning works of art.
Digital data will be used by students and researchers on campus to explore the site's buildings and artifacts, ultimately recreating an interactive, virtual-reality experience. Through high-resolution images and 3D models, students can study all the pieces together without the difficulty of travel to the site, nor fear of losing objects to passing time.
"The idea is to create a model — a digital surrogate — of these structures that allows us to interact with them, to analyze them, to annotate them and to make measurements to really understand their state of health," said Dominique Rissolo, an archaeologist and assistant research scientist at the UC San Diego Qualcomm Institute. "We have a unique capability here on campus … that allows us to go one step beyond the model to actually create the digital surrogate."
The work is being conducted as a project of the Cultural Heritage Engineering Initiative at the Qualcomm Institute, organized by researchers at the institute, Division of Arts and Humanities and Turin's Polytechnic University.
Trip findings are an extension of Division of Arts and Humanities Dean Cristina Della Coletta's research on the historical significance of the 1911 Turin International, the world's fair that took place in the city's Parco del Valentino. With a goal to visually recreate the 1911 fair, the team digitally captured a majority of the park, which includes a medieval village and the Castello del Valentino, or "Valentino Castle"—home to Polytechnic University's architecture department.
"For the first time, we really have a wide array of expertise that is brought to bear on the project: we have engineers, working with architects, working with cultural historians," Della Coletta said. "This is a winning combination."
Read the full story on the UC San Diego News Center.
News Briefs
UC San Diego students, including Department of History Ph.D. student Kevan Malone, share the impact of their research and advocate for increased investment from the state.
44th Chancellor's Associates Faculty Excellence Awards recognize excellence in teaching, research and service: Department of History chair Pamela Radcliff and Department of Visual Arts professor Ruben Ortiz-Torres are honored.
UC San Diego Philosophy professor ranks celebrity cookbooks, bringing animal protection to the forefront.
Finding a Roadmap to Success for Students
Led by History professor Nancy Kwak, 'Careers in the Humanities' workshops highlight choices, concrete steps to successful futures.
Philosophy Department Ranked Top 20 in the Nation
Long-standing graduate program receives high marks in multiple specializations, based in part on exceptional faculty.
Symposium & Open Studios Explore Culture
Visual Arts again opened its galleries, studios and lecture hall, giving an inside look into the experience of art students at UC San Diego.
AHa! Moments
Stay up to date with the latest accomplishments, news and events from the Division of Arts and Humanities through our digital magazine.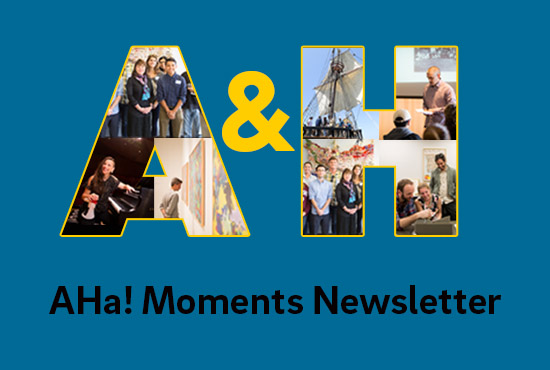 April 23 | Literature Talk
In "Inheritance Trouble: Migrant Archives of Holocaust Remembrance," guest Michael Rothberg considers immigrant engagement with the Holocaust
April 27 | Bradford Young
The Adam D. Kamil Guest Lecture series launches with cinematographer Bradford Young, best known for his work on "Selma" and "Arrival"
April 27 | In the Diaspora
Part of UC San Diego's celebration of Cesar Chavez, we welcome two Chilean women artists who came to the U.S. during during the military dictatorship