Arts and Community Engagement
Arts and Community Engagement is housed within the Institute of Arts and Humanities, and its goal is to connect students, faculty, alumni, staff and the greater community in a variety of performance, program and academic activities that highlight art as a means of fostering broader cultural dialogue and civic engagement.
UC San Diego is home to world-renowned arts and humanities departments — History, Literature, Music, Philosophy, Theatre and Dance, Visual Arts — and a thriving artistic community. As part of the Institute of Arts and Humanities, the Arts and Community Engagement initiative seeks to:
Build a multi-disciplinary art community of undergraduate students, graduate students, faculty, staff and off-campus community members who want to be engaged with art and the Institute of Arts and Humanities on campus,
Develop a variety of performance, program and academic activities that highlight art to engage community members in cultural and social dialogue, including the current partnership with San Diego Unified School District's Visual and Performance Arts (VAPA) Foundation, as well as additional outreach with the Sweetwater Union High School District, South Bay Community Services and others,
Focus on high-impact, student-centered activities,
Create and expand art-based fellowship, internship and volunteer opportunities for students,
Increase opportunities for alumni and donor engagement, and
Bring the UC San Diego Division of Arts and Humanities and cross-campus community to activated spaces to engage with art and culture through a series of programs hosted by the Dean's Office, Institute of Arts and Humanities, PATH program, relevant departments and other affiliated units.
Department of Music Professor Susan Narucki is the inaugural director of Arts and Community Engagement. Since joining the faculty in the Department of Music in 2008, she has been deeply engaged in commissioning, producing and performing chamber operas that illuminate critical issues in society. Narucki's most recent production is "Inheritance," a chamber opera that addresses gun violence in America.
Read the UC San Diego Campus Notice. Additionally, Dean Cristina Della Coletta made the announcement at the opening reception of "INDIGO, an Interdisciplinary Art Exhibition."
Interdisciplinary Art
"Indigo" celebrates a diversity of artistic practices happening in UC San Diego, and engages audiences with art outside of a traditional gallery setting. The exhibition is on display through February at the Jacobs School of Engineering.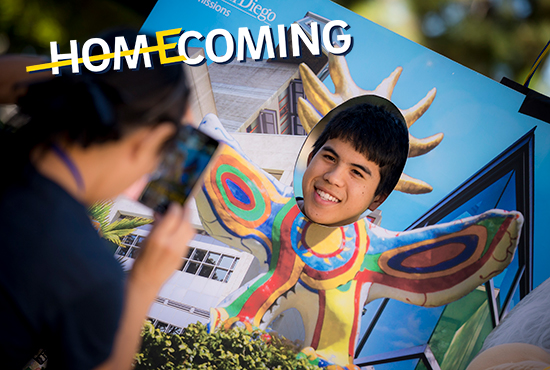 Contact