Celebrate National Arts & Humanities 2019: Student Contest Select Entries
---
Bhawna Gupta | 
Business Analytics

Summary:
Education for the Common Good to me is removing the long persisting gender inequality; to make people believe that girls are not behind in any field, to eliminate the female foeticides and infanticides, to ensure a safe environment for women as it is for men. Attached is my artwork in support of the theme.
Submission:
To the girl who breathes freedom.
To the girl who is strong and wants to be more.
To the girl who believes in equality.
To the girl who is beautiful and classy in her own ways.
To the girl who is caring and yet badass.
To the girl who gets shattered by emotions.
To the girl who still believes in fairy tales.
To the girl who respects the existence of humans.
To the girl who dreams, laughs, dances and plays.
To the girl who empathizes and compromises.
To the girl who rises unfathomably.
To the girl who is pure and gentle.
To the girl who is chirpy as birds and bloomy as flowers.
To the girl who is a gift for her parents.
To the girl who learns and sprouts every day.
To the girl who leaves an awe wherever she goes.
To many such confident girls, you are beautiful!
Every girl is beautiful!
---
Xavier Perez

|

Electrical Engineering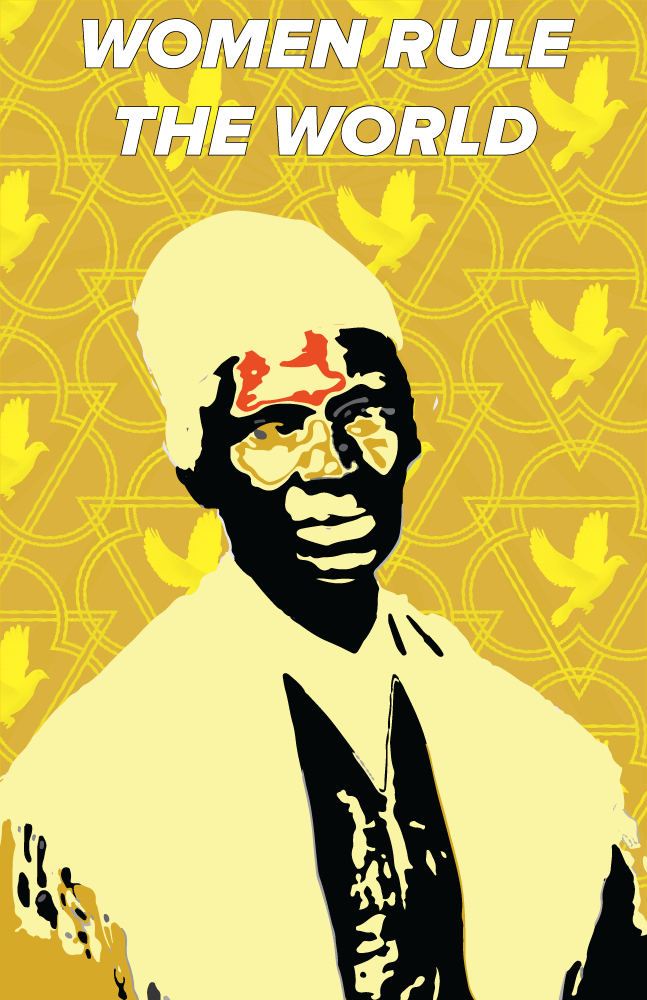 Summary:
The Truth of Sojourner Truth!
Shepard Fairey looks at oppression and provides a voice to people or that do not have one, he's trying to correct an injustice. This is not about controversial subjects that we already know about; it's about pointing out an injustice that many people do not see.
The objective of this project was to create a JUXTAPOSITION message in order to emphasize a voice that has not yet being heard. The person represented in the Shepard-Fairey inspiration project is Sojourner Truth. This portrait creates a paradox. Back in those days women possessed no rights, no freedom, and were treated as property. Sojourner Truth fought for her own freedom and also for the freedom of the African American Slaves. Consequently, she is famously known for the Underground Railroad which aided in the protection of slaves. Thus, my piece of art represents freedom by illustrating white birds in the background. It also demonstrates Sojourner Truth being the leader of the portrait by being the biggest and largest object of the canvas. Although, women did not rule the world back in history this canvas illustrates the significant role Sojourner Truth played in acquiring rights for women. Thus, it is important to learn about history to empower the theme of "An Education for the Common Good." History can serve to empower women to become an indispensable part in all aspects of society whether it be politics, sports, media, etc. As women become more educated about history, then information can be passed on to have better and equal representation in the world which leads to a better common good.
---
Steven Swee | Chemical Engineering
Summary:
This short screenplay focuses on how one's education is enhanced through sharing it with others. The screenplay primarily revolves around two characters, one who is interested in teaching and another who is more concerned about living a care-free and slightly selfish life. In other words, both characters can be seen as a dichotomy, and while either character's attitude can lead any student to a successful education, neither character nor any student can truly understand the value of education unless they share it with others who lack a good education. Additionally, where each character shines is how they learn to develop new interpersonal skills vital in giving a quality education to another kid, revealing that an education is not just about written text, but by being human, whatever that may mean. As the next generation of students start to greatly value their education through their impacts on others, the screenplay brings to light that the first step in making an impact is not about being the smartest person in the classroom, but by developing the skills necessary to step up and help others accomplish what otherwise would have been impossible.
---
Evelyn Vasquez

|

Literature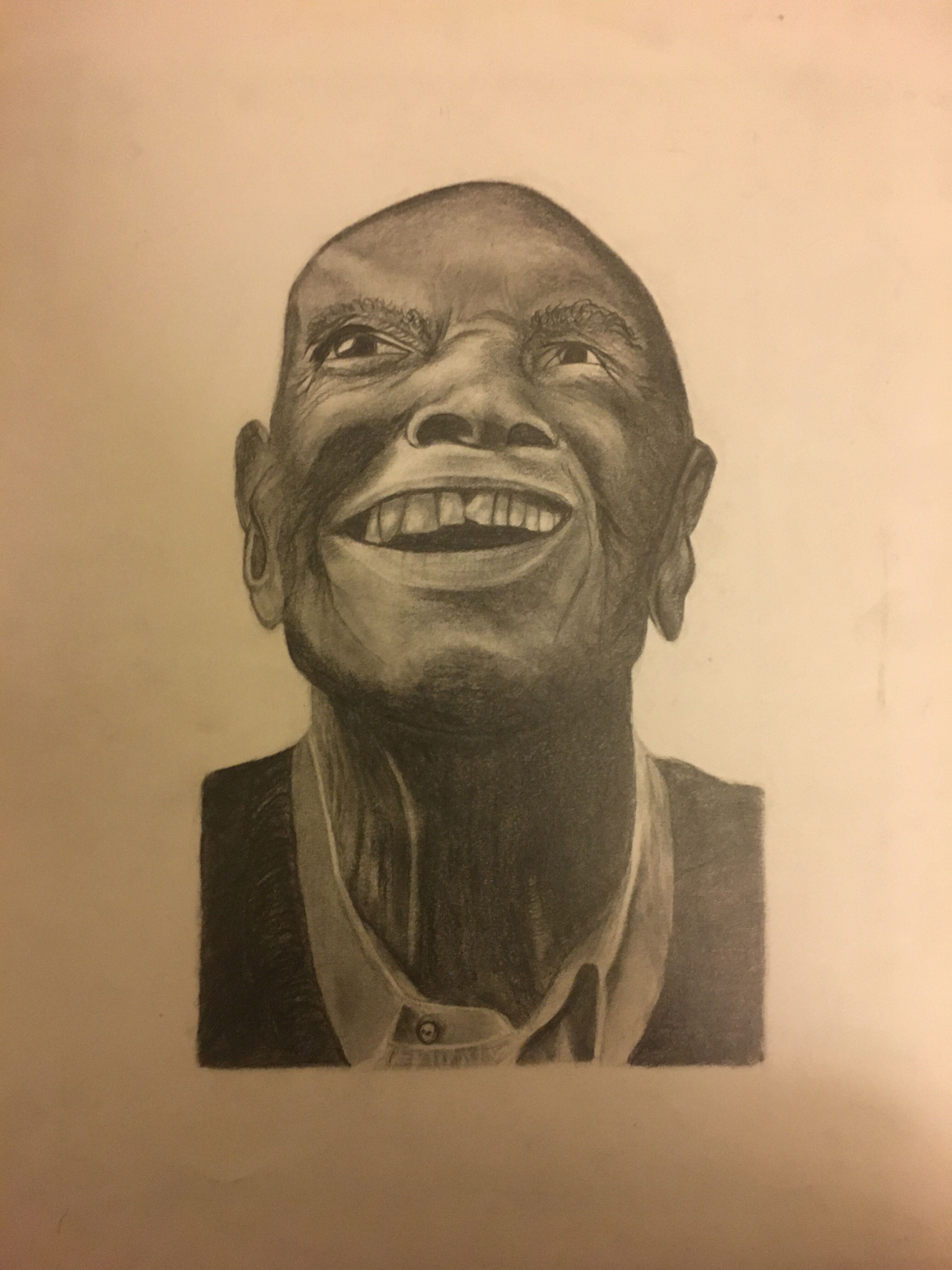 Summary:
On "Education for the Common Good" - This pencil drawing of "Distorted Belafonte" is a daily reminder that I am earning a Ph.D. in Literature to better understand my surrounding community and environment. Learning how to read as a twenty-year-old in community college often discouraged my ability to smile and see the bright side of my reading challenges. However, the moment I realized I could read, I knew I wanted this feeling for everyone. The feeling of creating feelings, worlds, and characters in the mind shouldn't be robbed from anyone but should be taught to everyone. I took a beginning drawing class two years ago, at age 27, thinking that I wouldn't be able to draw a single line in the same way I wasn't able to read one. But, then I produced this. Once again, I had an educational epiphany that many do not have access to or exposure to. For me to be a scholar is also to have an academic responsibility, and so I try to learn as much as I can, so I can return it back to my community.
---
Gabriel Zalles | 
Music

Summary:
Over the last few years, I have been learning about spatial audio, a field of study concerned with how to capture and reproduce sound in 360 degrees. Mainly, I am interested in how this technology can be used compositionally to create more immersive musical experiences that can hopefully impact listeners in a meaningful way. Many people are familiar with multichannel sound systems given their popularity for theatre experiences. Many people, however, don't know about some of the other technologies out there. One of the technologies that I first was acquainted with when I started to learn about spatial audio was a special multi-capsule microphone that can be used to capture sound while encoding the source direction. Unfortunately, these microphones are generally prohibitively expensive which is why my friends and I started building a low-cost multi-capsule microphone that students and audio enthusiasts could easily assemble at home. Eventually, our team managed to successfully build a $50 microphone with similar sound quality to a $1000 system. I am a huge fan of building your own toys because not only do you learn but you also get to have access to really cool stuff for a fraction of the price.

Download your own contest flyer PDF.
Contest open to all undergraduate and graduate UC San Diego students and local high school students.
Only one submission per person.
Project submission should include a paragraph summarizing how it represents the theme "Education for the Common Good." 
Projects must follow the UC San Diego principles of community.
Submissions accepted Tuesday, Oct. 1 - Friday, Nov. 15, 2019
* All submissions may be displayed on the division's website, newsletters, and social media.

$_SerializerTool.serialize($default, true)