Celebrate Arts & Humanities 2018: Student Contest Winners
Below are the Top Three Submissions for the 2018 Contest
We had a great turnout for this year's celebration of the Arts & Humanities Month! Thank you for all of your submissions.
First Place:
Angela Wang
Mathematics and Computer Science Major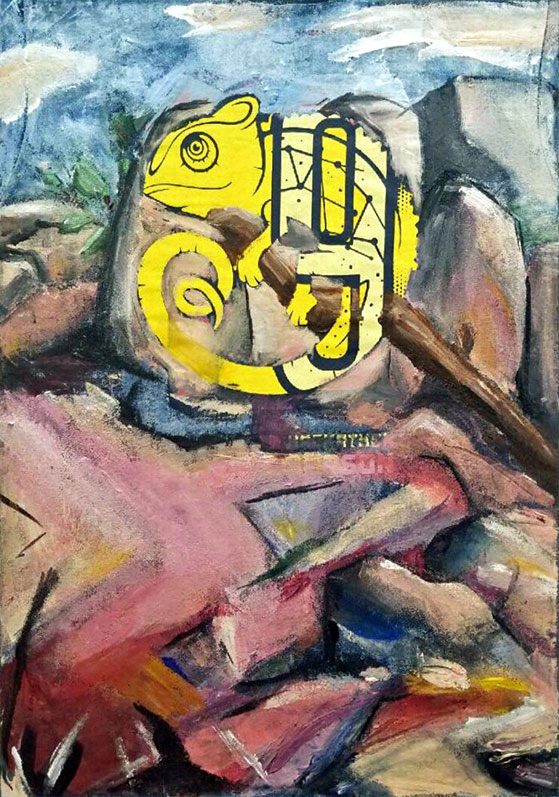 Material/Process:
Acrylic Paint on Canvas and Cloth, 24"x18"; The logo of the Chameleon is from the SD Hackathon that took place at UCSD last month. I incorporated the design of the T-shirt given at SD Hack into the painting to reflect bridge between art, humanities, and sciences.
Description:
Education should serve as more than just aiding individuals in their academic learnings, but also foster attitudes of tolerance and upright morals; resulting in an environment of acceptance. Usually, chameleons blend in with their environment to avoid standing out, but the chameleon at the center of the painting represents students in their ideal environment where they have the ability to express themselves. Only in an environment of tolerance are students and individuals able to accurately represent themselves.
---
Second Place:
Nicole Hoffner
Neurosciences Graduate Student
Summary:
This poem represents an "Education for the Common Good" by considering the perspective of a lab mouse, whose experiences within the poem are meant to reflect common themes in graduate education. In many cases, animal research is a key component for developing disease treatments, and I want to pay homage to the sacrifices made in service of this common good. Through the eyes of a mouse, we witness the perils of biomedical research and question the level to which the poem displays a graduate student experience. In this way, I aim to humanize scientific researchers as well as to bring awareness to the extremely high prevalence of mental health struggles in the graduate student population.
You can call me Nedd.
But to them, I'm
numbers - Statistics
Female, 10 grams,
Het, Albinistic.
I'm 99,
Cage 2-25;
my nickname's lefty

My timid ways
And Transgenic traits
Make me - desirable
Was that a mistake?
was she right to take
me? I can't shake these
feelings. either way
I'm here, now, and always will be

communication is key
but she doesn't understand me
I try to be an open book
But she can't hear me,
only looks
over the open field of confusion
my voice is lost,
forgotten

I'm afraid of what's ahead, 
the Ledge, of
Freezing, falling, jumping.
this blizzard, blue mood;
makes it hard to move.
and I'm dazed, a mazed,
and staring.
but on the Plus side, daring?

Cautiously I stay, in place cuz the
electric landscape's threatening
I hear the bell
The toll that tells me
brace. This may be shocking.

Swimming through an endless sea
Wave after wave - anxiety
hurting, drowning, it downs Me
I paddle, paddle, navigate
To find the platform, wherever placed
I keep afloat and hope
for treats,
Those sweet, pink milkshakes

HIV, BSE & CJD,
asthma, aging, stroke
Blindness, deafness, ALS,
Diabetes
Autism, sclerosis, AD, hep C
Anything they want, that's me
but what if I don't want to?
                       would you?

Published, cited, great success
except, I'm no longer needed - excess
Some say, I'm going to a better place
So adios, sayonara, god bless

 

 

 

 

 

 

 

 

 

 

 

 
---
Third Place:
Yang Lin
History Major
Summary:
The idea of the project is fairly straightforward. I want the project to be about UCSD, thus Geisel library. Bonom Commune Communitatis--for the good of the community--represented by the buildings, waves, clouds.
October is National Arts and Humanities Month — join in the celebration by submitting your creative project for a chance to win an iPad!
Submissions are no longer being accepted -- but stay tuned for the announcement of this year's winners!

In celebration of National Arts and Humanities Month, the UC San Diego Division of Arts and Humanities is proud to sponsor our second Student Contest.
No matter where your creative talents lay, UC San Diego students are encouraged to submit creative project promoting the division's mission: "An Education for the Common Good."
What type of projects are being accepted? How about a 500-word essay, a creative poem, or a painting, drawing, design or photograph... or even a video performance piece, but keep it to three minutes tops!
The Details
Your project submission should include:

Your name
UC San Diego email address
Major
Last four digits of your student PID
A paragraph summarizing how your project represents the theme "Education for the Common Good"
Your written materials, or a link to images or video of your project

Submit your entry by emailing your project information to phennessey@ucsd.edu.
Download your own contest flyer PDF.
Contest open to all undergraduate and graduate UC San Diego students.
Only one submission per person.
Project submission should include a paragraph summarizing how it represents the theme "Education for the Common Good." 
Projects must follow the UC San Diego principles of community.
Submissions accepted Monday, Oct. 1 - Friday, Nov. 16, 2018
* All submissions may be displayed on the division's website, newsletters, and social media.