Equity, Diversity and Inclusion

School awards new Inclusive Excellence programs, led by faculty & staff
"Moving (in) the World: Performing and Theorizing Social Change," submitted by Julie Burelle (Dept. of Theatre and Dance) — The Ph.D. area of the Department of Theatre and Dance will establish a speakers series composed of scholars and artists whose research and practice tackle some of the most urgent questions the world faces: racial, sexual, and gendered injustice and violence, white supremacy, ongoing colonization and its multigenerational effects, and the environmental crisis.
"Building a Diversity Library: Faculty Research and Staff Networking," submitted by Anthony King (Office of the Dean) — To build connections between Arts and Humanities employees founded in the shared goals of advancing knowledge toward social justice, funds will be strategically spent to create a comprehensive library of published and creative work by faculty that will be available for personal, individual review as well as a larger, staff-focused networking series to explore the themes of the work.
The next deadline for proposals (PDF) is March 15, 2022.
Our mission is to create a community where all students, staff and faculty are supported, valued, and treated with dignity. This requires prioritizing equity, diversity and inclusion in the access and representation, climate and culture, and educational mission of every Arts and Humanities department, institute and program.
Amid longstanding patterns of institutional exclusion and discrimination in higher education and beyond, this is a tall order. Yet we remain resolute.
Our belief is that the rhetoric of equity, diversity and inclusion must be accompanied by resources and opportunities that remedy systemic inequality, and that structural change is necessary to avoid the "illusion of inclusion."
Standing on the shoulders of those who have long pushed to make UC San Diego a better, more equitable institution, we are committed to working with students, alumni, staff and faculty on how our current moment — one in which Black Lives Matter inspires powerful protests against police violence, anti-blackness and systemic racism — shapes learning, teaching and research in the school.
We want to grow meaningful conversations and initiatives that highlight how arts and humanities effect change in the university and diverse communities across our city, region and globe. Ours is a collaborative effort, one dependent on cultivating conditions in which everyone will thrive.
We believe everyone should have tools at their disposal to help build and sustain an Arts and Humanities and UC San Diego we wish to inhabit, assisting all of us in this collective vision.
Strategic Plan for Inclusive Excellence
As a campus, we strive to be a leader in inclusive excellence — to foster a more positive and supportive climate and to live out our strong commitment to equity, diversity and inclusion on our campus.
Best Practices from the School of Arts and Humanities
The selection of practices summarized below were compiled from the School of Arts and Humanities report and presentation submitted for the annual Equity, Diversity, and Inclusion accountability meeting held in Fall 2019. A complete report summarizing best practices from across campus (PDF) is also available.
Multi-Year Hiring Plan: Shifting recruitment plans from a yearly "separation and replacement" model to a multi-year hiring plan that prioritizes new areas of interdisciplinary research and curricular innovation. Hires are clustered around a number of senior chaired appointments accompanied by additional FTEs at the assistant-and associate-professor ranks in multiple departments. Studies have found that clustering positions around strategic research areas maximizes chances for diverse hires.
Senior-Junior Mentorship Program: Through a UCOP Advancing Faculty Diversity Retention Grant for 2018-2019, the Senior-Junior Mentorship Program links school faculty in different departments to broaden the horizons of junior faculty by providing additional perspectives on the university, the review process, campus politics, work-life balance, etc. The response to the program was enthusiastic and within days it created 16 new mentor-mentee teams. One faculty member responded: "The timing is perfect. I was just speaking to our chair about feeling disconnected to how things work here."
Transparent Preemptive Retention and Overall Retention Protocols: Eliminating opacity from these processes helps redress real and perceived inequities. It is especially important to have competitive preemptive retention as studies show the importance of early action with minority faculty. In the last three years, the school completed nine preemptive retentions, including two women and one URM faculty, and three full retentions all involving women.
Institute Affiliations: Encouraging new faculty to seek affiliation with school institutes: the Institute of Arts and Humanities (IAH) and the Institute for Practical Ethics (IPE). IAH is home to 14 interdisciplinary programs that promote teaching and research on issues of social equity, diversity, and inclusion. IPE is a leading voice on the ethics and social impact of cutting-edge science, with an interest in exploring how scientific and technological activity impacts the most vulnerable levels of society.
Arts and Community Engagement: Responding to a desire to connect more meaningfully with local diverse communities and to provide high-impact experiences for UC San Diego students, Arts and Community Engagement will develop activities that highlight art to engage community members in cultural and social dialogue, which includes continuing the university's partnership with the San Diego Unified School District's Visual and Performing Arts Department (VAPA) Foundation. The 2019 VAPA-focused visits to campus included students from three high schools predominantly enrolling URM students.
Student Leadership and Development: The school has employed and trained more than 30 students in the last three years with the goal of creating strong URM leaders on campus and in the community. Training workshops include outreach and public speaking; best practices for cover letters, resumes, and interviews; entrepreneurship; and financial literacy. Some students also complete intensive mentor training in preparation for the PATH Summer Academy. These training programs are a key element in retention and students have expressed feelings of fulfillment for the opportunity to be in a leadership role. More than 60% of the summer academy mentors are URM and represent diversity in many additional ways (socioeconomic, veteran status, LGBTQ, etc.).
Transfer Summer Academy: Funded through two consecutive grants from the Andrew W. Mellon Foundation ($1.42 million in 2016 and $1.5 million in 2019) and in partnership with the San Diego Community College District, the five-week PATH program summer academy provides newly admitted transfer students academic and career preparation with eight units of coursework. To date [Fall 2019], 81 students have completed the summer academy, with more than 60% URM. The academy also includes a greater percentage of military veterans and lower-income students than the general campus population. Of the 1,020 transfer students who applied to the school in 2017, 663 (or 65%) identified as non-white/Caucasian. Applications from non-white/Caucasian transfer students increased 68% from 2014 to 2017 and yield from this group increased 115%, compared to a 76% increase in yield over the same period for all transfer students to the school.
Triton Arts & Humanities Academy: Rising high school seniors interested in studying arts and humanities can participate in this one-week summer program, conducted in partnership with UC San Diego Admissions. Each year, 45–50 students from URM communities attend the program and nearly 90% of them apply to UC San Diego. School undergraduate students, trained by Dean's Office staff, participated in over 25 outreach events with San Diego high schools over the last three years to better diversify the student population.
Dean's Travel Fund for Graduate Students: Since 2014, 273 travel awards totaling more than $81,000 have been provided to graduate students to alleviate financial concerns associated with professional travel costs.
Dissertation Writing Workshop: For graduate students to receive interdisciplinary feedback on chapter work beyond what is currently available within their disciplinary fields. Feelings of isolation and lack of support especially impact success for women and URM in graduate school, and one of the most isolating periods is writing dissertations.
Select Resources
In addition to the School of Arts and Humanities one-sheet of campus-based resources (PDF) that includes core policies and principles, and whistleblower procedures, below is an expanded list of material and links for support.
The Office for Equity, Diversity, and Inclusion supports our campus community through a number of initiatives, programs and workshops, and are available to engage with you and your team in a variety discussion formats on anti-racism.
Their website is updated regularly with resources to support your personal edification and discussions with students, colleagues and teams regarding racism, including:
Key Terminology and Concepts
News and Expert Opinions
Podcasts
Research, Reports and Actionable Resources
Videos, Webinars and Virtual Panels
Resources directly for the UC San Diego Community
An EDI Engagement and Resources Request Portal
Anti-Racism Resources from the Office of Equity, Diversity and Inclusion >>
This Libguide, organized in consultation with the UC San Diego Library Diversity and Inclusion Committee with contributions from other units across the library, is by no means a definitive guide. The guide will evolve over time and The Library welcomes thoughts, suggestions and corrections.
The guide is compiled to flow from educating users to the topics of racism and anti-racism, taking a deeper dive into details and exploration of the scholarship, delivering educational resources to use in the classroom or for self-education, and then to build sustained and actionable practices for individuals and institutions.
Access the complete Anti-Racism Guide: Resources for Education and Action >>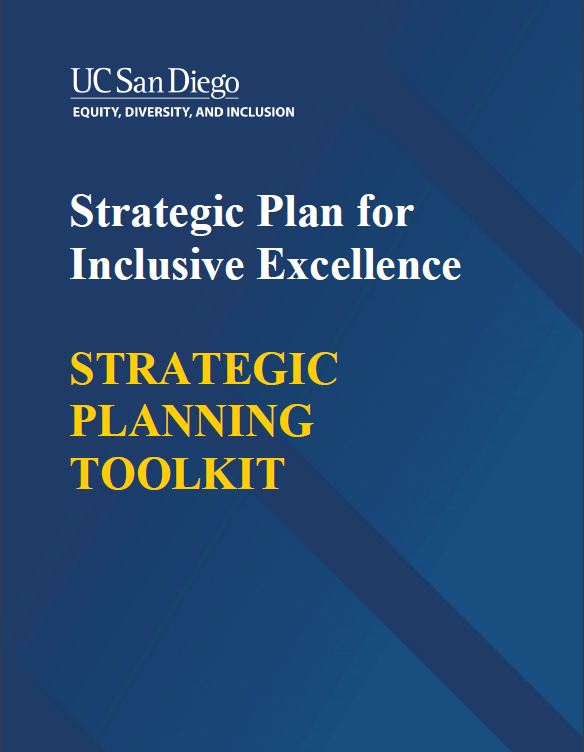 In the
Strategic Planning Toolkit (PDF)
, you will find a proposed outline to guide the school, department and unit planning process.
This outline has been developed through extensive research of strategic planning processes nationwide — both academic and otherwise — and maps directly back to the intended outcomes of the UC San Diego Strategic Plan for Inclusive Excellence.
Strategic Planning Blueprint
Pre-Planning

Identify your planning leads and team members, establish a timeframe and conduct a kickoff meeting

Data Analysis and Goal Setting

Gather and review data to identify strengths and opportunities that will inform your plan's vision and accountability metrics

Creation and Development

Draft strategic plan, review with the Office of Equity, Diversity, and Inclusion, and revise and finalize

Implementation

Broadcast your plan to your wider unit or school, advise leadership on strategy and expectation, and monitor your progress
Diversity scholar Dr. Eddie Moore, Jr. created the 21-Day Challenge concept to promote deeper understandings of race, power, privilege, supremacy and oppression.
The UC San Diego Chancellor's 21-Day Challenge took place Friday, Aug. 7, 2020 through Friday, Sept. 4, 2020, with material and resources available for continued education.
We recognize the 21-Day Anti-Racism Challenge is the beginning, not the end, of anti-racism work.
Access all material from the UC San Diego 21-Day Anti-Racism Challenge >>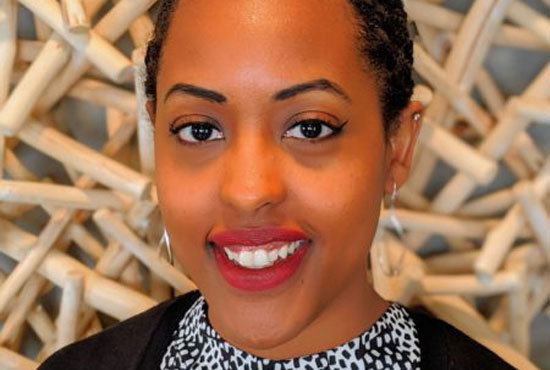 Triton Dispatches
Literature alum Yelena Bailey, Ph.D. '16 addresses the "double pandemic of racism and the coronavirus" for Triton magazine: "I long to exist in places where I am understood as I am, not as I am perceived to be."