Division recognizes faculty commitment in new Equity, Diversity and Inclusion Awards program
Congratulations are in order to 10 faculty members in the Division of Arts and Humanities for their commitment to the principles of equity, diversity and inclusion. In a first for the division, the Office of the Dean has implemented an awards program to recognize community engagement, faculty-to-faculty mentorship and faculty-to-student mentorship, and to support individual research.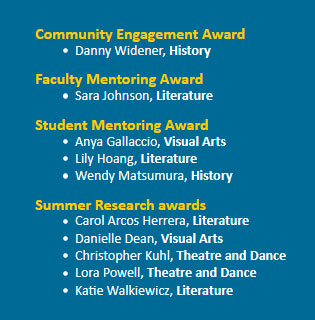 "We have often said Arts and Humanities is a leader in teaching our students about systemic racism and social justice in an effort to change the trajectory of society for the better. What this awards program emphasizes is that these pursuits are an individual effort too, ones that better each other, our division and ultimately our institution," Dean Cristina Della Coletta said. "What was particularly moving was reading the nomination letters, written by those who recognize and celebrate the impact made by their friends and colleagues."
The awards and research support are two parts of the larger Arts and Humanities Strategic Plan for Equity, Diversity and Inclusion, led by Associate Dean of Academic Personnel and Faculty Equity Advisor Luis Alvarez. In addition to having the opportunity to list these accomplishments in their Academic Biography and Bibliography, the awardees will be recognized with a financial award.
The inaugural Equity, Diversity and Inclusion Award winners are below, with highlighted comments from their colleague nominators. Additionally, the summer research awardees and a summary of their projects are listed.
Arts and Humanities Community Engagement Award
Danny Widener, Department of History
"In fighting for the self-determination of communities outside of the university, Widener argues for seeing connections across various forms of oppression — and the necessity of building enduring alliances across difference. … In the course of the past year, Professor Widener has participated in more than 40 off-campus speaking and workshop engagements. These included talking to multiple groups of San Diego high school students about the role of American students in the fight against apartheid in South Africa; organizing a multi-part workshop on the history of community-based resistance to police violence; he spoke on the trial of the Chicago 7 in light of the film about the same; and he spoke at bookstores in Los Angeles, San Diego, Stockton, and San Jose on structural racism and Black radicalism."
Arts and Humanities Faculty Mentoring Award
Sara Johnson, Department of Literature
"It is difficult to summarize just how valuable Dr. Johnson's mentorship has been to so many faculty – particularly, to junior faculty of color and to female faculty. … Despite [being engaged in a rigorous research project], and despite her own stress as a working parent during a global pandemic, and also despite her disproportionate service to campus as one of the few senior Black female faculty, I see Dr. Johnson regularly putting her own scholarship on hold to invest hours ­— sometimes entire days — to help other faculty and students.
"Dr. Johnson understands the exhausting emotional drain that many BIPOC faculty experience, and she also knows concretely how to break down large, daunting challenges into manageable ones. She works in the details. … At the same time, part of the real gift of Dr. Johnson's mentorship is her understanding of the big picture. She thoroughly comprehends the challenges of EDI work at the largest scale."
Arts and Humanities Student Mentoring Award
Anya Gallaccio, Department of Visual Arts
"As Gallaccio's example has demonstrated, the difficult work of transformative justice requires a considerable amount of personal investment and commitment ... she spearheaded a new, year-long group study course. ... These conversations were a watershed for cultivating a new sense of inclusive community for students in Visual Arts. Over and above her normal teaching load, Gallaccio's work in this area has been penetrating, insightful, and tireless. ... Above all, I nominate Gallaccio because her actions demonstrate that structural change requires making room for the perspectives of others, listening, and taking action on even the minutest scale, all of which have the potential to enact radical change within the institution."
Lily Hoang, Department of Literature
"Especially with the current surge in anti-Asian violence, Professor Hoang has felt an obligation to not only increase her mentoring and availability for APIMEDA students, but has also been participating more actively in service opportunities to better the APIMEDA student experience. … Moreover, with specific students who needed help during the isolation of the pandemic, Professor Hoang created virtual community work sessions in which she and the students worked side by side over Zoom. In the last year and half, students have used this time to talk through the challenges of teaching, learning, and art-making during these historic and unprecedented times."
Wendy Matsumura, Department of History
"Wendy serves on numerous dissertation committees and mentors graduate students of color in and outside of her field, including Latin American history, U.S. history, and Literature. It is not an accident that so many students from outside of her areas of specialization gravitate to work with her. A consistent remark among her students is a profound appreciation for Wendy's capacity to show care and to address students' multiple needs. … With every 'crisis' that has occurred over the past year and a half, Wendy has continuously stepped up to show up for students, to demonstrate to them that their concerns are heard and valued. She has consistently modeled for me and our colleagues how to center students' needs."
Equity, Diversity and Inclusion Summer Research Awards
Carol Arcos Herrera, Department of Literature
Project: "Feminisms, Marianism, and Maternities across the Americas"
The outcome of the proposal is threefold: to finish the research paper "Feminist Virgins: Performances of Maternity in Latin America," to design a new undergraduate class about Marianism across the Americas, and to conduct an independent study with a current graduate student on the topic.
Danielle Dean, Department of Visual Arts
Project: "Amazon"
Using the summer to prepare for both a live performance and video installation, "Amazon" investigates the nature of labor and its fungibility under racial capitalism. Entangling present-day Amazon Mechanical Turk employees with historical accounts of employee actions and events at Fordlandia (an industrial settlement amid the Brazilian rainforest created by Henry Ford in the 1930s), the project considers the effects of mass production and extractive racial capitalism, and the potential for global solidarity in an otherwise isolated present and future.
Christopher Kuhl, Department of Theatre and Dance
Project: Working in collaboration with Cassils, a transgender artist making a time-based work
The project will transform the space of the theater into a photographic darkroom. Through live performative movement, a series of very large and detailed cyanotypes will be created in front of an audience in real time. Performed by a cast of six professional dancers who are all transgender, gender non-conforming and non-binary, these cyanotypes will provide a full-scale record of the social impact and political nature of the moving transgender body. A current lighting design graduate student will join the collaboration, which will include an apprenticeship/residency, and research on new theories of stereoscopic strobe effects, new deep red LED technology, and kinesiology.
Lora Powell, Department of Theatre and Dance
Project: BIPOC stage managers short film
The creation of a video featuring BIPOC stage managers that share their personal journeys to stage management as a career will be used for in-person and virtual outreach visits to high school programs, community colleges and HBCU's in order to reach students in historically underserved communities. To learn about this exciting career choice directly from other BIPOC individuals will be impactful for future students.
Katie Walkiewicz, Department of Literature
Project: Mutual aid, community outreach initiative
Working with the local mutual-aid group We All We Got San Diego, the project supports the organization's current food distribution program, and the drafting of an article that both contextualizes mutual aid in a longer Indigenous and Black history and provides a longer colonial history of San Diego. The work will open discussion for any of the members to reflect on the relationship between mutual aid and Indigenous organizing.