Employee Resources
Faculty Resources
Analytical Writing Program
Senate Faculty File Deadlines for 7/1/24
Due to Dean's Office:  September 29,  2023

Deferrals
CER request memo

Due to Dean's Office: November 1,  2023

Appraisal
Further Above Scale (including accelerations)
Normal Merit
Merit/Reappt of Assistants (including accelerations)
No Change Action


Due to Dean's Office: December 1,  2023

Accelerated Merit
Merit with New Bonus OS
Bonus OS only


Due to Dean's Office: January 12,  2024

Merit to/through Step VI (Career Review)
Merit to Above Scale (Career Review)
Career Equity Reviews


Due to Dean's Office: January 19,  2024

Promotions (Career Review)


---
Continuing Lecturer and Temporary Faculty File Deadlines
Due to Dean's Office:
March 17, 2023
22/23 Pre-Six Review/Teaching Effectiveness files


Due to Dean's Office:
April 17, 2023
22/23 Pre-Six Assessments


Due to Dean's Office: May 1, 2023
7/1/23 Academic Year (non-Cont) Lecturer files


Due to Dean's Office: July 10, 2023
Fall quarter temp files (10/1/23)


Due to Dean's Office:  October 20, 2023
Winter quarter temp files (1/1/24)


Due to Dean's Office: January 19, 2024
Spring quarter temp files (4/1/24)
---
Leave Deadlines
EVC authority leaves are due two months before pay period start date.
Dean authority leaves are due one month before pay period start date.
Fall (7/1 start date): EVC authority leaves due 5/1; DA leaves due 6/1
Winter (11/1 start date): EVC authority leaves due 9/1; DA leaves due 10/1
Spring (3/1 start date): EVC authority leaves due 1/1; DA leaves due 2/1
---
Contact
Jennifer Johnson
858-534-2088
j3johnson@ucsd.edu
Proposal Requirements: Requests should be 500 words or less, include what support is requested, identify why the support is important for the department, the School and the University as a whole, and specify how the support will enhance the student or faculty experience.
The proposal must include how much money the department is putting towards the effort and what other funding sources have been sought and secured, if any.
Cost-share or match required: All awards require a cost share/match of at least 1 to 1.
Applicants may request any amount, though a majority of the grants awarded in recent years were for less than $5,000.
Eligibility: 
Current Senate Faculty in the School of Arts and Humanities.
Must be in compliance with all

 

mandatory UC trainings.
Terms: 
Proposals are prioritized according to their alignment with the School's strategic goals (see below)
Please submit requests in a timely manner taking into consideration the date of proposed event/activity, the deadlines listed, and the evaluation process. This mindfulness is appreciated given the large number of requests received and the goal to provide equal opportunity for all. 
The applicant will be informed of the status four weeks after the deadline.
Funds will be transferred to the faculty member's home department. All payment or reimbursement arrangements will be handled by the home department.
School's Strategic Goals:
Sustaining a first‐class faculty
Maintaining and enhancing graduate education
Increasing the number of entering freshmen
Building and expanding collaborative and interdisciplinary academic and research activities
Enhancing financial sustainability through the generation of new revenues
Deadlines:
Fall Deadline: Nov. 15, 2023
Winter Deadline: March 15, 2024
To Apply: Please complete the proposal application via the online portal.
 Questions? Contact Roxann Bedia (sbedia@ucsd.edu) 
View the below linked calendars for funding opportunities. These documents include funding due dates, maximum amounts offered and sponsor/funder details. These links are updated regularly with additions, deletions or other changes.
The School of Arts and Humanities is committed to addressing systemic racism, anti-Black and anti-Asian hate, and white privilege, and continues to investigate the racial dimensions of the liberal arts and "diversity and inclusion."

As part of the broader Strategic Plan for Equity, Diversity and Inclusion, the Inclusive Excellence Initiative intends to amplify the crucial EDI work by faculty across the School of Arts and Humanities.
Proposal Requirements: Proposals will need to present in 500 words or less stating what EDI support is being requested, why the support is important for the department or institute, school, and university as a whole, and how specifically the support will enhance the student, staff, or faculty experience.
Funding Areas: (1) Faculty Mentorship, (2) Student Mentorship, (3) Community Engagement, and (4) Research.
Awards: There will be up to 5 awards of a $3,000 each available. If awarded, an update at the conclusion of the project may be requested.
Award Notification: The grant and award recipients will be notified by June 15, 2023.
General Resources
For Emergencies:
Call (858) 534-2930

During business hours (7am - 3:30pm), your call will go to the Customer Help Desk
After business hours, your call will be forwarded to a voice-messaging system and you will be instructed to dial "03" to forward your call to the Central Utilities Plant for immediate response. Be prepared to provide detailed information for the operator.

Emergency examples:

Building system down, lights out, locked out of an office, water leak, water spill, clogged toilet, elevator problems
For Elevators problems: Provide the building, cab number or letter (C&D), floor number, if the door is open or closed, and if people are trapped inside

For Non-Emergent Requests:
Submit an online work request

Visit the Facilities Management Customer Portal (Maximo)
To access this system, you must be using a computer on the campus network or VPN. 
Please do not use "Describe the Issue" option in the Customer Portal. 
Login using your Single Sign-On account.
Follow the steps to submit your request. (Watch the Service Request Training Video.)

Non-emergent examples:

Blinds, HVAC temperature, window crank issues, sink hand sensor, building alterations, repairs, maintenance, cleaning, sign fabrication services or event support services (e.g., additional waste/recycling containers, bollards unlocked or irrigation turned off)
Provide these details: NTP, Building 1, Ridge Walk Academic Complex, Floor number, room number.
Marketing and Branding Resources
Please view the campus branding guidelines for directions on fonts, colors, graphics and imagery.
Brand Downloads: 
University Communications - Photography and Videography Services & Requests
In addition to supporting the core communication and public relations needs of the campus, University Communications offers photography and videography services to schools, divisions and departments as a recharge service.
There are two processes for submitting requests:
Complete the Asana Form: use to request headshots, photo or video coverage of an event.
Email univcomms-photovideo@ucsd.edu: use for other kinds of photo or video support—marketing photos or video, research/news coverage, etc.
Full details and rates are provided on the Photography and Videography University Communications page.

To access and download files, log-in with an Active Directory account.
Logos are available in black, white, navy, and navy/gold versions, in jpg, png and eps format.
For guidance on logo usage, please visit the UC San Diego campus branding page at brand.ucsd.edu
To access and download files, log-in with an Active Directory account.
Letterhead
 Powerpoint
The Arts and Humanities Building has digital screens located in the lobby area of six floors, managed in part by the Office of the Dean.
To request content be included on a digital screen, please complete this submission form.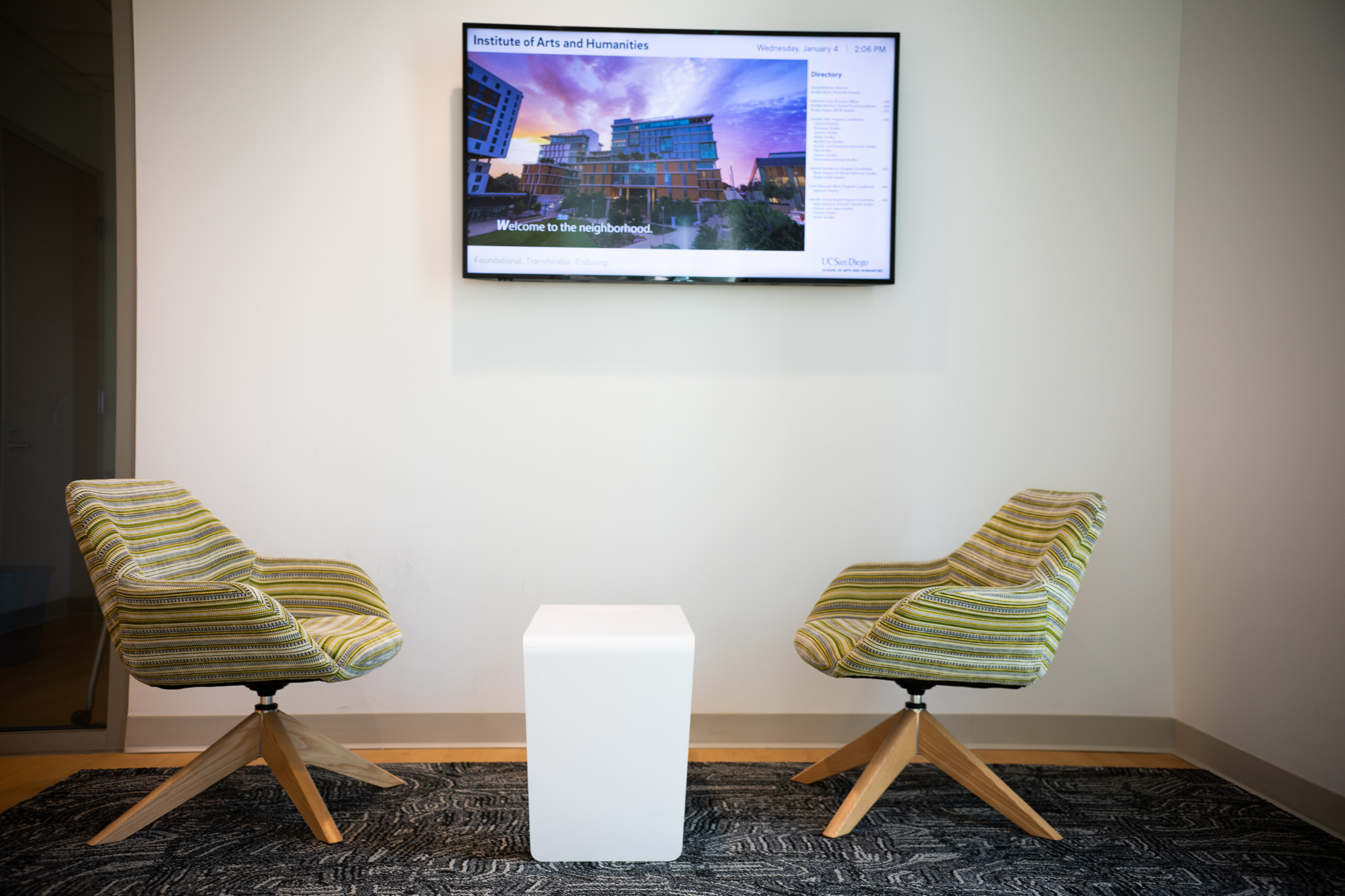 Equity, Diversity and Inclusion Resources
In addition to the School of Arts and Humanities one-sheet of campus-based resources (PDF) that includes core policies and principles, and whistleblower procedures, below is an expanded list of material and links for support.
Faculty Equity Advisor
Jessica Graham
Associate Dean of Equity, Diversity and Inclusion
(858) 534-6270
jlgraham@ucsd.edu
---
Staff Equity Advisor
Anthony King
Director of Communications
(858) 822-7824
apk006@ucsd.edu
The Office for Equity, Diversity, and Inclusion supports our campus community through a number of initiatives, programs and workshops, and are available to engage with you and your team in a variety discussion formats on anti-racism.
Their website is updated regularly with resources to support your personal edification and discussions with students, colleagues and teams regarding racism, including:
Key Terminology and Concepts
News and Expert Opinions
Podcasts
Research, Reports and Actionable Resources
Videos, Webinars and Virtual Panels
Resources directly for the UC San Diego Community
An EDI Engagement and Resources Request Portal
Anti-Racism Resources from the Office of Equity, Diversity and Inclusion >>
This Libguide, organized in consultation with the UC San Diego Library Diversity and Inclusion Committee with contributions from other units across the library, is by no means a definitive guide. The guide will evolve over time and The Library welcomes thoughts, suggestions and corrections.
The guide is compiled to flow from educating users to the topics of racism and anti-racism, taking a deeper dive into details and exploration of the scholarship, delivering educational resources to use in the classroom or for self-education, and then to build sustained and actionable practices for individuals and institutions.
Access the complete Anti-Racism Guide: Resources for Education and Action >>
In the 
Strategic Planning Toolkit (PDF)
, you will find a proposed outline to guide the school, department and unit planning process.
This outline has been developed through extensive research of strategic planning processes nationwide — both academic and otherwise — and maps directly back to the intended outcomes of the UC San Diego Strategic Plan for Inclusive Excellence.
Strategic Planning Blueprint
Pre-Planning

Identify your planning leads and team members, establish a timeframe and conduct a kickoff meeting

Data Analysis and Goal Setting

Gather and review data to identify strengths and opportunities that will inform your plan's vision and accountability metrics

Creation and Development

Draft strategic plan, review with the Office of Equity, Diversity, and Inclusion, and revise and finalize

Implementation

Broadcast your plan to your wider unit or school, advise leadership on strategy and expectation, and monitor your progress
Diversity scholar Dr. Eddie Moore, Jr. created the 21-Day Challenge concept to promote deeper understandings of race, power, privilege, supremacy and oppression.
The UC San Diego Chancellor's 21-Day Challenge took place Friday, Aug. 7, 2020 through Friday, Sept. 4, 2020, with material and resources available for continued education.
We recognize the 21-Day Anti-Racism Challenge is the beginning, not the end, of anti-racism work.
Access all material from the UC San Diego 21-Day Anti-Racism Challenge >>
Need IT Support?
Arts and Humanities faculty and staff can submit a request to the email address dahhelp@ucsd.edu for support from the School's IT team.
Submit a Website Update
Do you see information that needs to be changed or updated on this website (artsandhumanities.ucsd.edu)? Submit a website request form! We appreciate your help in ensuring this website reflects accurate information.