Resources for Faculty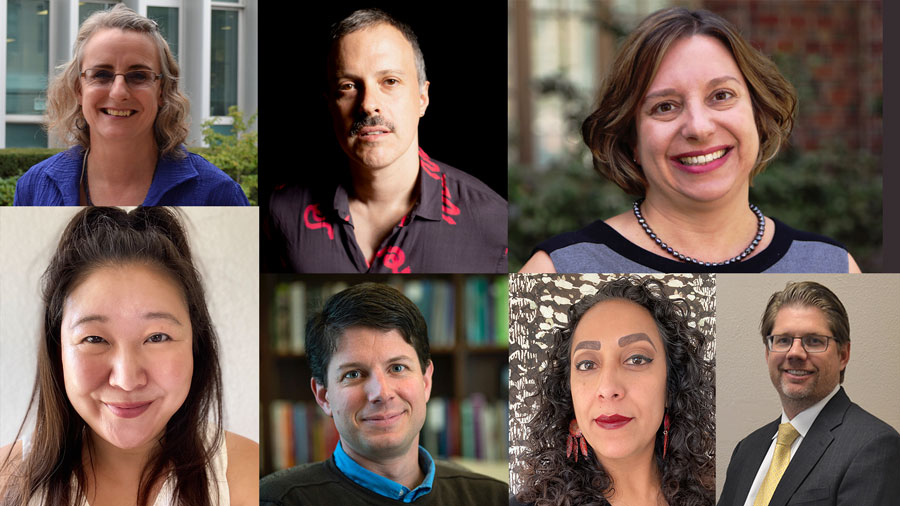 Introduce yourself to the incoming faculty cohort in the Division of Arts and Humanities for the academic year 2019 – 2020. Appointed to our six departments after a rigorous and competitive selection process, your new faculty reflect the foundational strengths of our division and share the professional commitment of our student-centered, research-focused and service-oriented public university.
Division of Arts and Humanities
Guidelines for Submitting Requests for Ad Hoc Funding
Requests should be presented in 500 words or less that states what support is being requested, why the support is important for the department, the Division and the University as a whole, and how specifically the support will enhance the student or faculty experience. The proposal must include how much money the department is putting towards this effort and what other funding sources have been sought and secured, if any. Please complete the proposal application.
If the application portal does not work, send the following information via email to Laura Martin (lauramartin@ucsd.edu) with a cc to your Department Chair and MSO: Name, Email, Department, Funding Request Narrative, Amount Requested, and Funding Support Received from your department and/or other campus sources.
Proposals will be prioritized according to how they align with the Division's strategic goals:
Sustaining a first‐class faculty
Promoting diversity initiatives in all aspects of the academic experience
Maintaining and enhancing graduate education
Increasing the number of entering freshmen
Building and expanding collaborative and interdisciplinary academic and research activities
Enhancing financial sustainability through the generation of new revenues
Deadlines for 2019-20 Academic Year:
November 15th, 2019 (with funds being provided by 12/15/19)
May 15, 2020 (with funds being provided by 5/30/20)
Note:Because of the large number of requests received and the goal of providing equal opportunity for everyone, please submit in a timely manner taking into consideration the date of proposed event/activity, the deadlines below, and the evaluation process. Proposer will be informed of the status two weeks after the deadline.
Funds will be transferred to the Faculty member's home department upon submission of receipts to the Dean's Office. All payment or reimbursement arrangements will be handled by the home department.
Faculty Salary Exchange Program (FSEP)
Faculty may pay a portion of their academic year salary on extramural funds, and retain 100% of their released salary. The resulting salary savings are retained by the department and distributed according to departmental policy.
Compensation effort from extramural sources should not exceed 50% time in an academic year.
Funds allocated to the participant must be used by the faculty member for research and administrative expenditures allowable on state funds.
Participation in the program should in no way reduce the teaching and service commitment of the faculty member.
Requests must be received by the Dean's Office at least 30 days prior to the effective date of the FSEP. Effective date is always the first day of the month.
FSEP form  (contact Jen if you want the Excel version)
Faculty Course Buy-out Program (CBO)
Faculty may use extramural dollars to buy out 2 courses per year, at the rate of 1/3 of the participant's annual salary, or 1/6 (16.67%) per course.
The department will receive 100% of the released salary, of which a portion must be used to replace the participant's uncovered courses.
Participants must teach two courses during the year, at least one of which must be an undergraduate course (size and content to be determined by departmental needs).
Participants in the program should in no way reduce the service commitment of the faculty member. The faculty member must remain on campus for the duration of the buy-out, with the exception of standard leaves of absence within policy.  Any exceptions require EVC approval.
This program may not be used in combination with a sabbatical leave.

CBO form
Senate Faculty File Deadlines for 7/1/20
Due to Dean's Office: October 1, 2019

Deferrals
CER request memos
Due to Dean's Office: November 1, 2019

Appraisals
Further Above Scale (including accelerations)
Normal Merits
Merit/Reappointments of Assistants (including accelerations)
Reappointments of Non-Tenured
Non-Salaried Actions
No Change Actions
Due to Dean's Office: December 2, 2019

Accelerated Merits
Merit with Bonus Off-Scale
Bonus Off-Scale (w/out other actions)
Due to Dean's Office: January 17,  2020

Merit to/through Step VI (Career Review)
Merit to Above Scale (Career Review)
Career Equity Reviews
Due to Dean's Office: January 24,  2020

Promotions (Career Review)
---
Continuing Lecturer and Temporary Faculty File Deadlines
Due to Dean's Office: May, 3, 2019

7/1/19 (Academic Year) temporary teaching files
Due to Dean's Office: August 9, 2019
10/1/19 (Fall 2019) temporary teaching files
Due to Dean's Office: November 15, 2019
1/1/20 (Winter 2020) temporary teaching files
Due to Dean's Office: February 14, 2020

4/1/20 (Spring 2020) temporary teaching files
7/1/20 Continuing Lecturer Merit files
---
Leave Deadlines
EVC authority leaves are due two months before pay period start date.
Dean authority leaves are due one month before pay period start date.
Fall (7/1 start date): EVC authority leaves due 5/1; DA leaves due 6/1
Winter (11/1 start date): EVC authority leaves due 9/1; DA leaves due 10/1
Spring (3/1 start date): EVC authority leaves due 1/1; DA leaves due 2/1
---
Contact
Jennifer Johnson
858-534-2088
j3johnson@ucsd.edu
Three lists appear below: faculty internal funding, faculty external funding and internal graduate-student funding, all in the form of calendars. Due dates and maximum amounts offered as well as a link to the sponsor/funder are listed.
These calendars are updated on a regular basis — at least once a month — so it is important to check for additions, deletions or any other changes.
Please contact Karen Hirschfeld, Grant Development Coordinator for the Division of Arts and Humanities at khirschfeld@ucsd.edu or 858-534-2250 for more information.