AHa Internship Program
The AHa Internship Program's objective is to provide UC San Diego students with real-world experience in communicating and promoting the value of arts and humanities education on this campus. Interns will draw from their experience as Division of Arts and Humanities students to inform high-school and transfer students about the division and the university. The outcome of this outreach is to encourage prospective students to apply to and enroll at UC San Diego as arts and humanities students. Additionally, the internship supports current students' academic and professional growth.
Details
By hiring two upper division undergraduate students, one from the arts and the other from the humanities, the division aims to increase its community outreach and service to prospective underrepresented students. The interns will receive communications training and experience through a year-long internship program sponsored by the Division of the Arts and Humanities.
Training Requirements
The interns will be required to complete Diversity Training through the UC Learning Center classes (or other classes suggested by EDI). The interns will also work with the student diversity groups on campus such as multicultural student organizations or Trio Outreach Programs to help underserved students.
Arts & Humanities Advantage (AHa) Outreach Assistant interns will be trained and supervised primarily by the Division of Arts and Humanities' Director of Communications. Interns will be responsible for the following steps:
Developing and hosting a half-day workshop on campus for entering 12th graders on the value of arts and humanities at UC San Diego.
Contacting high-school counseling staff to propose and schedule an assembly presentation.
Developing TED-like talks for student assemblies directed to 11th and 12th graders, during which interns will deliver lively presentations on their undergraduate major and the types of careers that exist for graduates of the university's six arts and humanities departments.
---
Current Intern
Daisy Olivarez, 2017-2018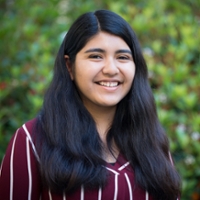 Daisy Olivarez is a Junior at UC San Diego pursuing a double major in Political Science and Spanish Literature. She is currently a Philanthropy Team Leader for the Phi Alpha Delta Pre-Law Coed Fraternity working with the Community Outreach committee to coordinate events and provide outreach to underprivileged groups in San Diego county, as well as Director of Fundraising for MEChA's Scholarship Fund Committee. Daisy has extensive experience in successful fundraising for scholarships as well as leadership experience in administration and customer service. She has a passion for Literature and is an advocate for promoting the arts and humanities and providing service and outreach to underrepresented communities.
---
Questions?
Please email lauramartin@ucsd.edu