The New Living and Learning Neighborhood










A neighborhood like no other on campus.
The North Torrey Pines Living and Learning Neighborhood will be an exciting new addition to the UC San Diego campus. The innovative, mixed-use community will further connect students with each other faculty and staff by incorporating residential, academic and administrative space.


Development of the Living and Learning Neighborhood presents an opportunity to help meet our on-campus housing goals while providing much-needed academic and support space — including a building specifically for the Division of Arts and Humanities — that better connects departments and programs. Envisioned to be a vibrant and active hub, the neighborhood will also be a welcoming and comfortable place that promotes community.
Bridging the Humanities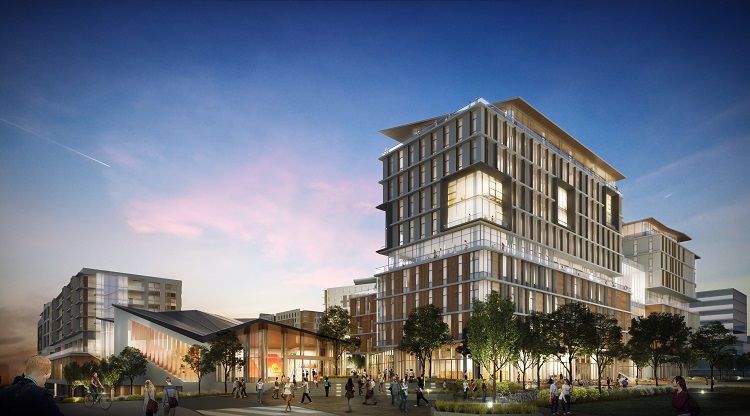 Foundational, transferable and enduring, the humanities constitute the intellectual cornerstone of a comprehensive university like UC San Diego. The humanities train all students to think critically, express creatively and communicate clearly. The humanities reflect a spirit of innovation and inclusiveness, develop a global perspective and promote the cultivation of integrity as foundational to a long-lasting education for the common good.
To amplify our impact across campus, our region and society, the new state-of-the-art building in the North Torrey Pines Living and Learning Neighborhood will give architectural form to these values by bringing together programs of the Division of Arts and Humanities. Notably, all three departments of the humanities — History, Literature and Philosophy — will be gathered in the same space for the first time in the university's history.
Additional programs housed in the building will include the Institute of Arts and Humanities and the Analytical Writing Program, initiatives key to extending the scholarly fundamentals derived from the humanities to the full spectrum of academic knowledge.
Your support of Bridging the Humanities through the Campaign for UC San Diego will be critical to the division's work in forging connections between individual scholars, departments and multi-disciplinary programs.
Division Receives Humanities Infrastructure Award
The arts and humanities will have a stronger presence on campus, thanks to a $750,000 matching grant from the National Endowment for the Humanities