The Engine of Creative Innovation
Armed with foundational knowledge, transferable skills and enduring experience, Arts and Humanities graduates don't just impact the workforce — they transform it.
With your philanthropic support of the Division of Arts and Humanities — which contributes to the Campaign for UC San Diego — we can make waves for the greater good. Through unexpected interdisciplinary partnerships, we spark deeper understanding of the human experience and empower students to imagine the future.
Help us propel our faculty and students to make art, make history and make an impact. Explore our giving priorities below and make a gift today.
Arts and Humanities Giving Priorities
Making an Impact
An Arts and Humanities Changemaker
Late Artist, Educator and Mingei International Museum Founder Martha W. Longenecker Roth Remembered with $1 Million Artist-in- Resident Endowment
Martha W. Longenecker Roth's life was multifaceted, encompassing work as an artist, educator and museum director. After a career teaching at San Diego State University, she founded the Mingei International Museum in 1978, inspired by the teachings of the revered 20th century Japanese scholar Soetsu Yanagi, who coined the term mingei, "min" meaning all people and "gei" meaning art.
When she passed away in October 2013, her cousin Ana Smythe established the Martha Longenecker Roth Distinguished Artist-in- Residence Endowment at UC San Diego as a fitting tribute to a woman who had loved La Jolla and the university. The program will bring exceptionally talented, high caliber artists to the Department of Visual Arts to practice, present to and instruct students during a critical stage of their artistic development.
"In the spirit of Martha's historic impact on the visual arts in both local and global communities, this permanently endowed program will extend her legacy to generations of aspiring artists and the legions of audiences and visitors impacted by their work," said Smythe.
3rd in the Nation
Time-based media/new media fine arts program (U.S. News and World Report)
4th in the World
Best MFA program, Theatre and Dance (Hollywood Reporter)
Renowned Faculty
Including winners of the Pulitzer Prize, the Tony Award, and the MacArthur "Genius" Fellowship
The Conrad Prebys Concert Hall
Acoustically one of the finest small concert halls in the world
A Neighborhood Like No Other
The new North Torrey Pines Living and Learning Neighborhood will be an innovative, mixed-use community to further connect students with each other, faculty and staff by incorporating residential, academic and administrative space — including a building specifically for the Division of Arts and Humanities.
Contact Us
Can't find the area that you would like to support? Contact us to learn about additional giving opportunities.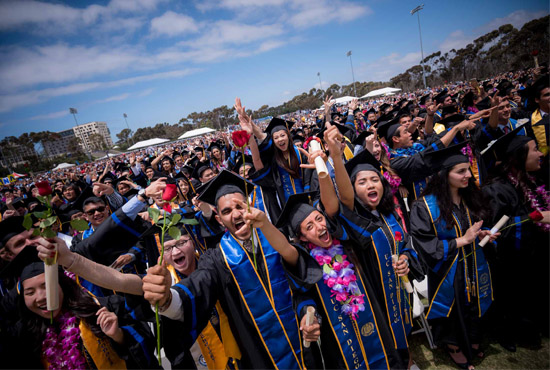 The Campaign for UC San Diego: Continue the nontradition
At the University of California San Diego, challenging convention is our most cherished tradition. The Campaign for UC San Diego is a university-wide comprehensive fundraising effort to transform the student experience, our campus, and ultimately the way humanity approaches problems and develops solutions. Learn more at campaign.ucsd.edu.